I know I've been gone for over a month. Not gone really, just not posting. But I think I'm back now and posting on a regular basis ~ at least 'regular' for me.

Today is not Tom's birthday. It was two weeks ago and he was 65.

We don't buy each other birthday or anniversary gifts anymore. We both really have everything we could need or want, except for a million dollars of course. We rarely go out to eat anymore. We've been to just about every eatery in this little town and there's not much of anything very special to speak of. So, instead we take the opportunity to cook something special for each other.

This year's menu for Tom's birthday:


Can you tell we love the beach??
I won't repost the recipe for the Coriander Crusted Tilapia because I've already done that
HERE
, but I will start this series of posts with our appetizer.
A couple weeks before Tom's birthday I ran across the recipe for
Mini Lobster Rolls posted at BonAppetit.com
and thought they would be wonderful for my beachy theme.

Of course, the recipe calls for cooked
fresh
lobster meat. Huh. Not here. All of the live lobster tanks have been removed from both of our markets because I think we were the only customers to ever buy a live lobster. Sadly, our city does not have a fish monger and the best I could do was frozen lobster tails, so that is what I used. However, I felt like I needed to give the previously frozen lobster a little flavor punch so I cooked the thawed lobster tail in a
court bouillon
instead of plain salted water. It worked well.
The following recipe includes my changes. You will find the original recipe at
THIS LINK
Court Bouillon
3 cups water
1 cup dry white wine
1 lemon, juiced, then cut the juiced lemon in quarters
1 medium onion, roughly chopped
1 celery stalk, chopped
1 small carrot, roughly chopped
1 garlic clove, finely minced
1 teaspoon whole black peppercorns
4 sprigs of fresh thyme
1 bay leaf
1 teaspoon kosher or sea salt
Combine all of the ingredients in a pot, bring to a boil over high heat, then simmer for at least 10 minutes. Carefully strain the liquid and return it to the pot.
To prepare the lobster, immerse the lobster tail in the
court bouillon
and simmer gently, covered, for about 10 minutes for a 10-12 ounce tail. Remove from the pot and allow to cool before you remove the shell.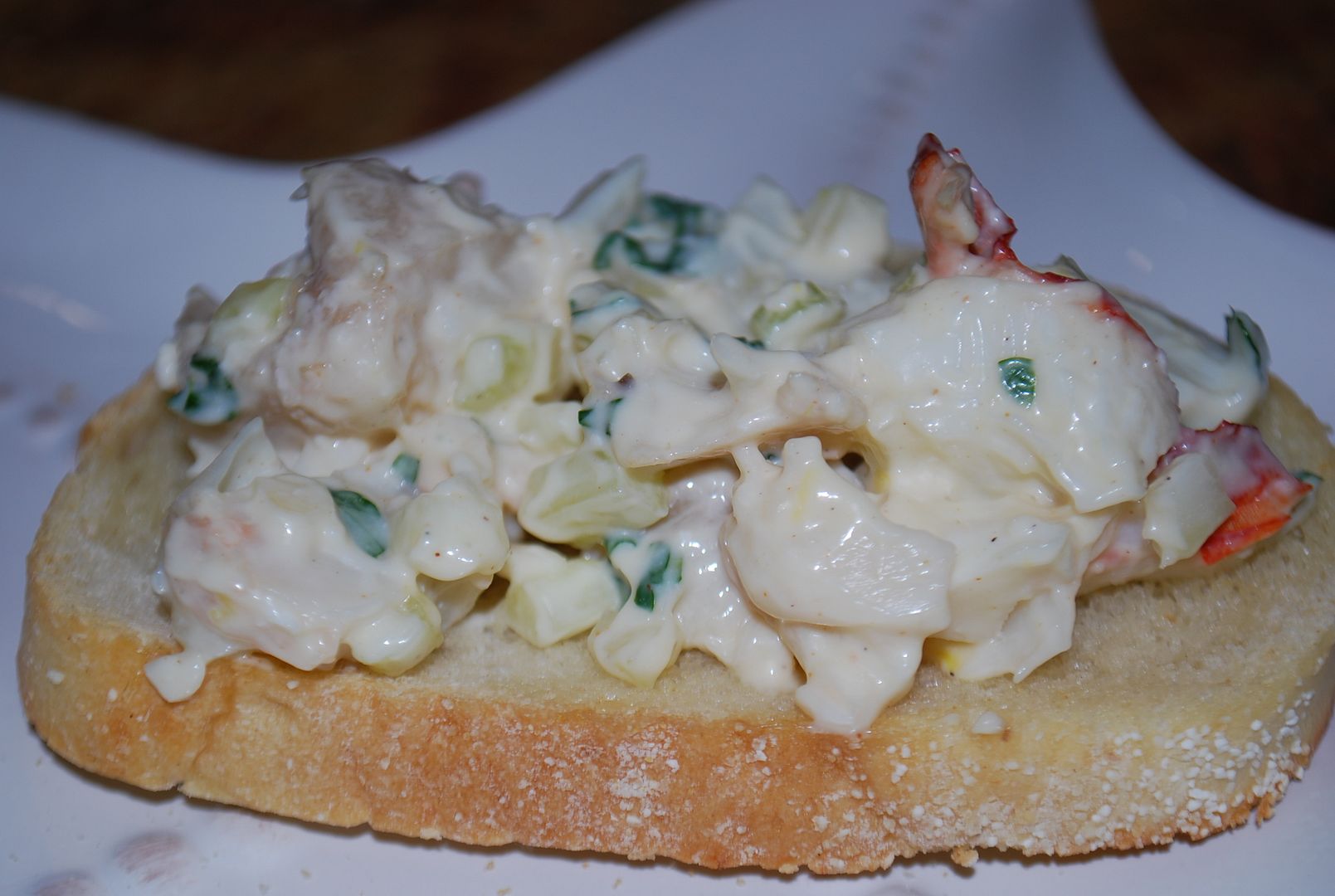 Mini Lobster Rolls
Adapted from Bon Appetit
1/2 cup (1 stick) butter, slightly softened
12 - 1/3-inch-thick bread rounds cut from 1 baguette
1/3 cup mayonnaise
1/3 cup finely diced celery
2 tablespoons chopped fresh Italian parsley
2 teaspoons fresh lemon juice
1 teaspoon Dijon mustard
1/8 teaspoon finely grated lemon peel
Dash of paprika
1 - 10 to 12 ounce cooked lobster tail, coarsely chopped
Preheat oven to 400 degrees.
Spread some butter on each baguette slice. Place the slices on a baking sheet and bake about 10 minutes, until the bread browns slightly. Remove from the oven and transfer to a rack or plate to cool.
Combine mayonnaise, celery, parsley, lemon juice, Dijon mustard, lemon peel, and dash of paprika in large bowl; stir to blend. Mix in lobster. Mound some lobster salad on each toast and serve.