Yes, I know it looks like I skipped the main course, Coriander Crusted Tilapia in Ginger Coconut Broth, but I really didn't since I posted it
back in September
. And even though I made the dish just a couple of weeks before his birthday, Tom loves the dish so much he requested it for his birthday dinner. It turned out just as good.
The dessert, Chocolate Pecan Cake with White Chocolate Sauce, is something I hadn't made in years.
While still living in California, I would occasionally watch "Live with Regis & Kathie Lee". This was way, way back in the day before the show became....well, let's just say I got bored watching it. So, anyway the show almost always had a cooking segment which featured "Famous Chefs". The show produced a flyer or sorts featuring 5 recipes that were featured on the show and when I saw
Chef Stephan Pyles
make this cake, I ordered the flyer.
I made the cake many times before moving to Arkansas, but after we moved the flyer was buried in a large basket with magazine pages, handwritten recipes on sheets of binder paper and miscellaneous food and recipe pamphlets I vowed to sort out after moving to our new home. That was in 1993.
Earlier in the month I finally decided to sort out that basket of stuff and found the pamphlet and I knew I had the perfect birthday dessert for Tom.
The flourless cake is dense and chocolaty, the sauce is velvety and not too sweet and the raspberries are the perfect fresh garnish.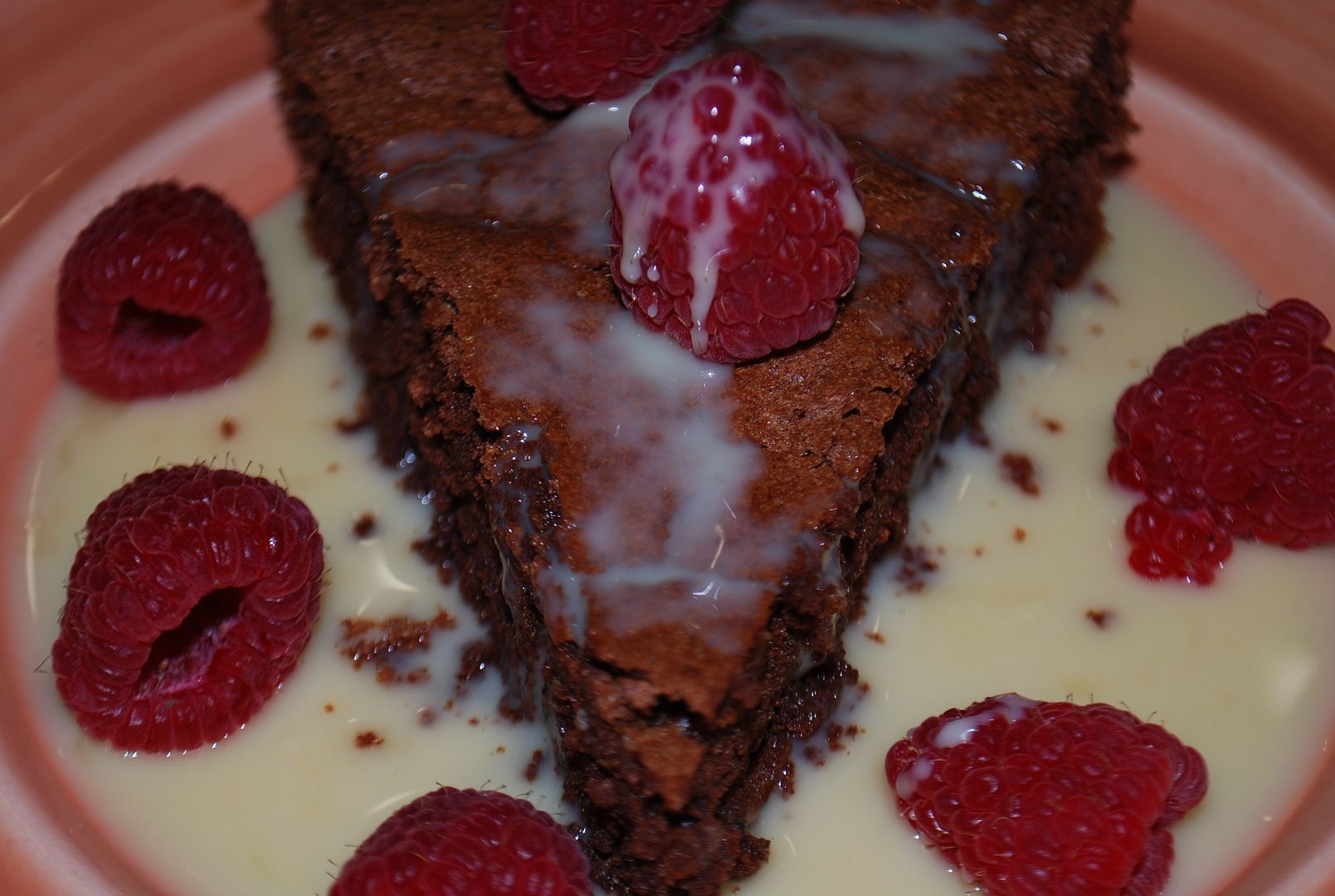 Chocolate Pecan Cake with White Chocolate Sauce
Adapted from Chef Stephan Pyles

For the cake:
2 - 1 oz. squares semi-sweet chocolate
2 - 1 oz. squares unsweetened chocolate
1/2 cup butter
3/4 cup sugar
4 egg whites
3 egg yolks
3/4 cup roasted pecans, finely chopped
Preheat oven to 350˚F
Melt the chocolate and butter in the top of a double boiler. Whisk the egg yolks with 1/2 cup of the sugar until lightened. Stir the melted chocolates and butter into the sugar-yolk mixture un.til blended. Stir in pecans.
Whip the egg white into soft peaks, then add the 1/4 cup remaining sugar and whip until the whites have stiff peaks and are glossy. Gently combine 1/4 of the whites with the chocolate-pecan mixture. Gently fold in the remaining white until completely combined.
Pour the mixture into a greased an.d floured 9-inch cake pan. Bake in preheated oven for 20 minutes or until knife inserted comes out clean.
Let cool, invert onto plate and serve with White Chocolate Sauce and raspberries.
White Chocolate Sauce
5 - 1-oz squares white chocolate, roughly chopped
1 cup heavy whipping cream
Place the white chocolate in the top of a double boiler over simmering water. Allow to melt until smooth. Stir in cream. When blended and warm, spoon over cake slices. Garnish with raspberries.