This is the final post in the Birthday Menu series and this is the menu.


I have a confession. This drink is on the menu but we didn't really have it, at least not this time. We opted for a glass of white wine instead, but since I included the drink on the menu that's the recipe I'm sharing.
I'm on the Bon Appetit recipe newsletter list. I receive it by email every week. Last April, the newsletter highlighted the recipe for
this cocktail
. We finally tried the cocktail in May and happily mixed it up several times throughout the summer until the mint in my garden succumbed to the ultra-brutal July/August heat. When we lived on 10-acres, mint grew wild all over our property and I briefly considered taking a trip out there, but since I'm certain the new owners of the property would not have appreciated my mint-scavenging presence, I reluctantly made the trip to the store to buy it. It's worth it.
Yes, those are little green things floating around in the cocktail. It's the mint. And I know it looks a little like algae. In the spirit of full disclosure, one of the six people who tried the cocktail and reviewed it said emphatically "SWAMP WATER!" Quite honestly, I've never tasted swamp water, so I can't really tell you whether or not the review is accurate. But if swamp water tastes a little sweet, minty and lemony with a nice bubbly finish, then perhaps I should give it a try because I'm sure I'd love it as much as I love this cocktail. Don't let the little green floaty things stop you from trying this.
The only change we made to the recipe is to reduce the sugar to one tablespoon instead of two. The Limoncello is a sweet lemon liqueur and also provides sweetness.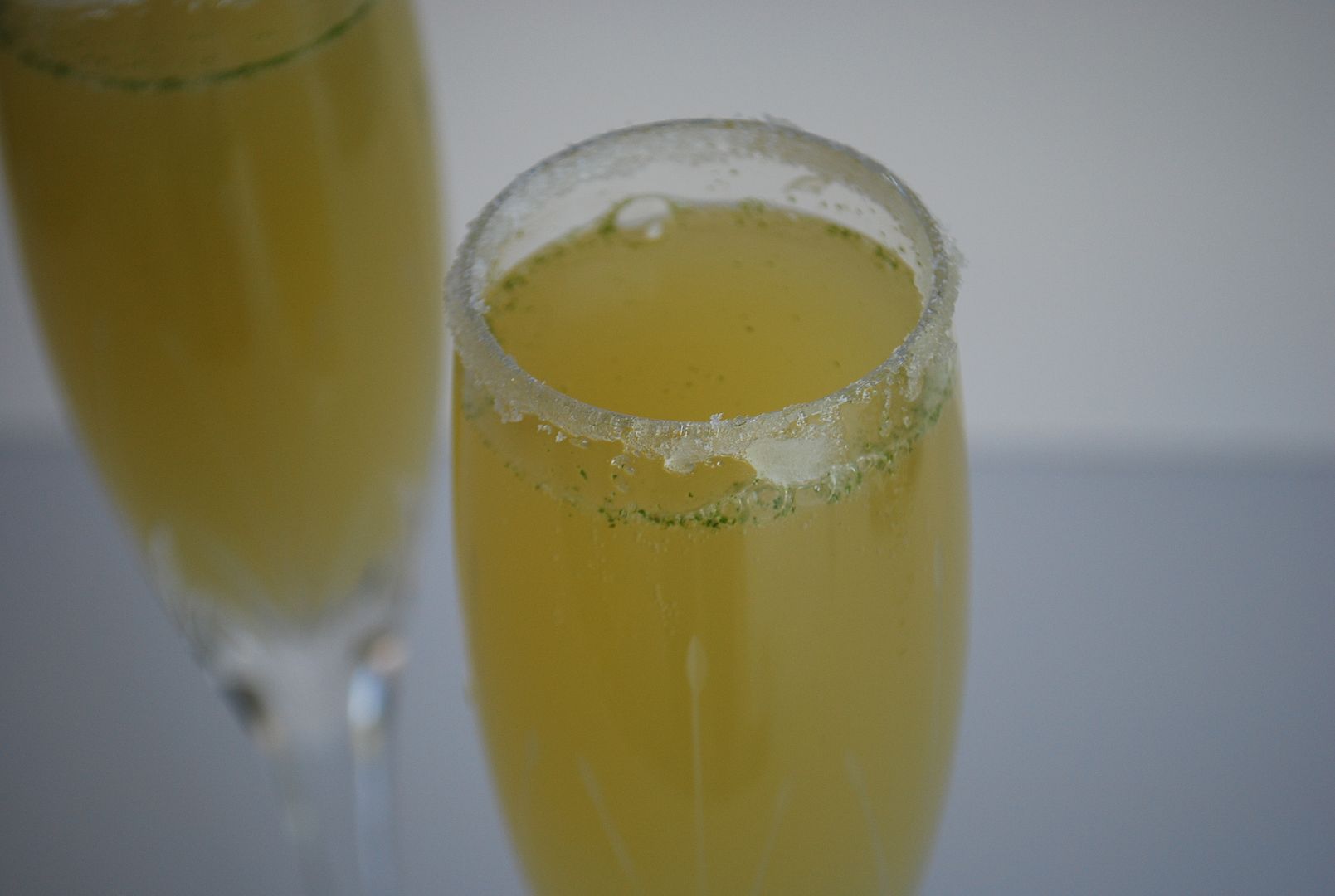 Limoncello Champagne Cocktails with Mint
Adapted from Epicurious.com
1/4 cup fresh mint leaves
1/4 cup limoncello
2 tablespoons sugar plus additional for dipping Champagne flutes
Lemon peel strips from 1 lemon
4 teaspoons fresh lemon juice plus 1 lemon wedge
1 cup (about) chilled Champagne or sparkling wine
Place mint, limoncello, 2 tablespoons sugar, and lemon strips in blender; blend until mint is finely chopped (lemon peel will be coarsely chopped), 10 seconds. Strain into small cup; discard solids. Run lemon wedge around rim of 2 Champagne flutes. Dip rims into sugar. Divide limoncello mixture and lemon juice between flutes. Top with Champagne.