Sorry for the slight delay in posting these recipes. I had jury duty.

I made the Bacon Jam on Monday, but I was called for jury duty on Tuesday. I would probably be on the jury for a two to three week trial had I not been sick yesterday with the flu. But, in between sleeping and succumbing to my flu symptoms, I was able to whip up a batch of small, cheesy, savory biscuits and sample the final products.

How do I describe Bacon Jam? Sweet, salty, smokey, on the smooth side, but with a somewhat dense texture. Addicting.


I can think of any number of ways to use Bacon Jam. Top Chef season 6 cheftestant Kevin Gillespie, who created the
original recipe
, used it as an intensely flavored puree to accompany a dish of Escargot Fricassee. I ate the jam spread on the small hors d'oeuvre size Herbed Cheddar Biscuits I made yesterday afternoon. Honestly, I had to make myself stop at three and it wasn't easy.
I would use this jam as accompaniment to a fried pork chop (Pork X 2. How perfect is that?) or maybe even on a burger or a grilled cheese sandwich. I am sure you, too, can come up with an idea or two.
My recipe is a little different from Chef Gillespie's. He used chicken broth, I used leftover coffee. I also did not add butter and I added some seasonings.
Bacon Jam
adapted from Kevin Gillespie
1 pound smoked bacon (not thick sliced)
1 medium sized onion, diced
2 teaspoons finely minced garlic
6 tablespoons brown sugar
1 cup strong black coffee
3 tablespoons real maple syrup
2 tablespoons apple cider vinegar
2 tablespoons balsamic vinegar
1/2 teaspoon allspice
Cut the bacon into 1-inch pieces. In a large frying pan or dutch oven, cook over medium high heat, stirring occasionally, until the bacon starts to crisp.
Add the onion to the bacon, lower the heat to medium and cook until the onion begins to brown and caramelize, approximately 8 to 10 minutes. Add the garlic and cook another 3 minutes.
Remove the pan from the heat and spoon off as much fat as possible.
Return the pan to the heat and add the remaining ingredients and cook over medium heat for two hours, stirring occasionally. If the mixture gets too thick, add a little more coffee.
After two hours, the bacon should be very tender and the liquid should be somewhat thick but not stiff (when you pulse the mixture in the food processor, the liquid will be fully incorporated).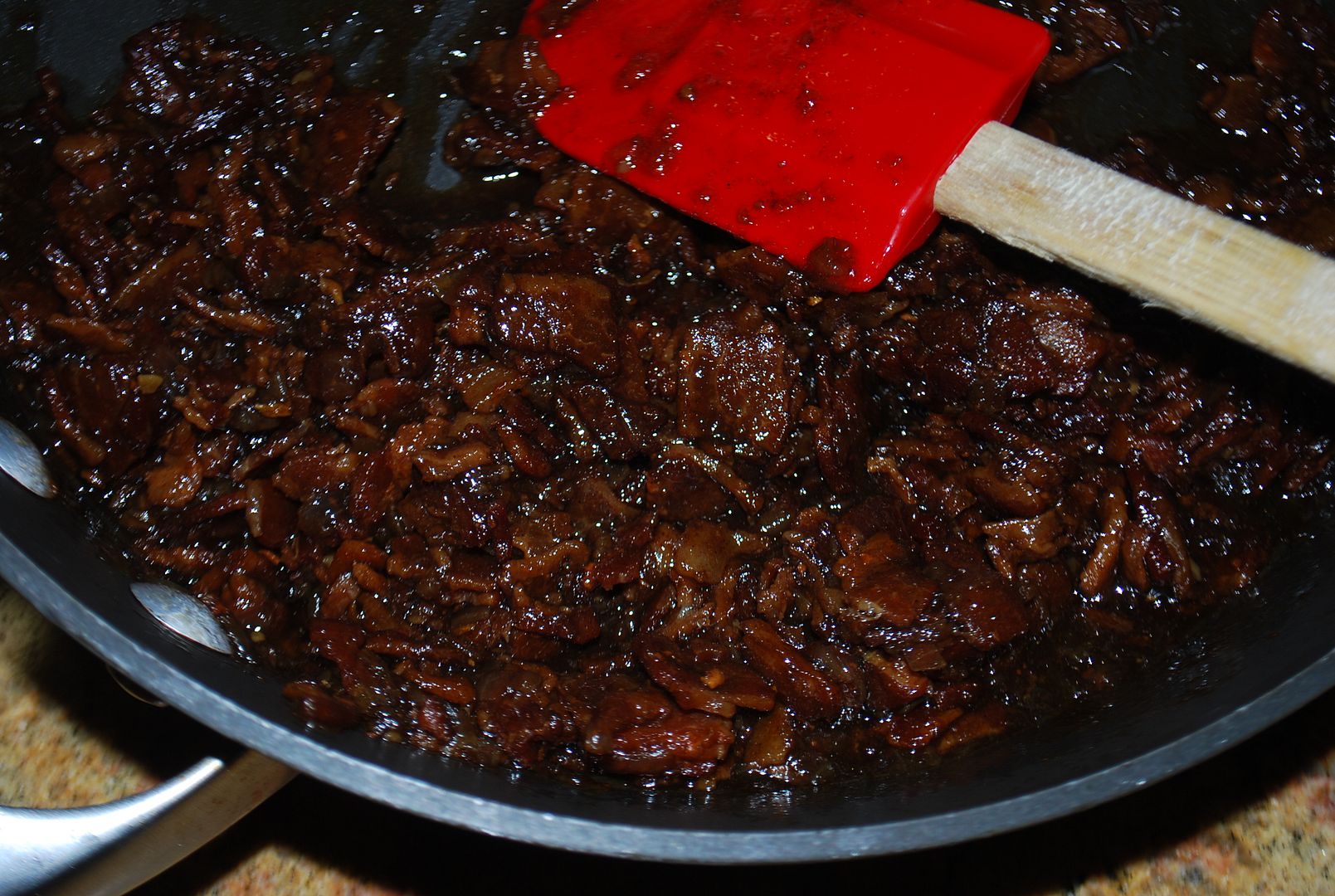 Remove the pan from the heat and allow to cool for 15 to 20 minutes. Transfer the bacon mixture to a food processor and pulse until the jam is somewhat smooth, but retains some texture.
Store in the refrigerator. When ready to use, allow to come to room temperature.
My biscuits weren't as tender and flaky as I like. I think I over-worked the dough, but they were still very tasty.
I used a 2-inch biscuit cutter to make the individual hors d'oeuvre size. If you are making larger biscuits, be sure to adjust your baking time.
Herbed Cheddar Biscuits
3 cups all purpose flour
1-1/2 tablespoons baking powder
1 teaspoon kosher salt
1/4 cup sugar
8 tablespoons (1 stick) butter or margarine, plus more for brushing the tops before baking
1-1/2 cups grated cheese (I used cheddar, but you can use any you like)
1/4 cup finely chopped fresh herbs (I used chives)
1-1/2 cups milk
Preheat oven to 375 degrees.
Sift all of the dry ingredients together in a medium sized bowl. Cut the butter into pieces and cut into the dry ingredients with a pasty blender until it resembles coarse crumbs.
Add the grated cheese and herbs and toss well to combine. Add the milk and stir until the mixture is just combined. Do not over-stir.
Turn the dough out onto a floured surface and pull together and knead just a couple of times until the dough holds together and all the ingredients are completely combined. Flour your hands slightly and pat the dough out to about 1-inch thick. Spray a baking sheet lightly with cooking spray. Cut the biscuits out with a 2-inch biscuit cutter and place on the baking sheet about 1- to 2-inches apart.
Melt a couple of tablespoons of butter in a small dish and brush the top of the biscuits. Bake 15 to 17 minutes until golden brown. Remove from the oven and cool on a wire rack.
They are even delicious without the Bacon Jam.