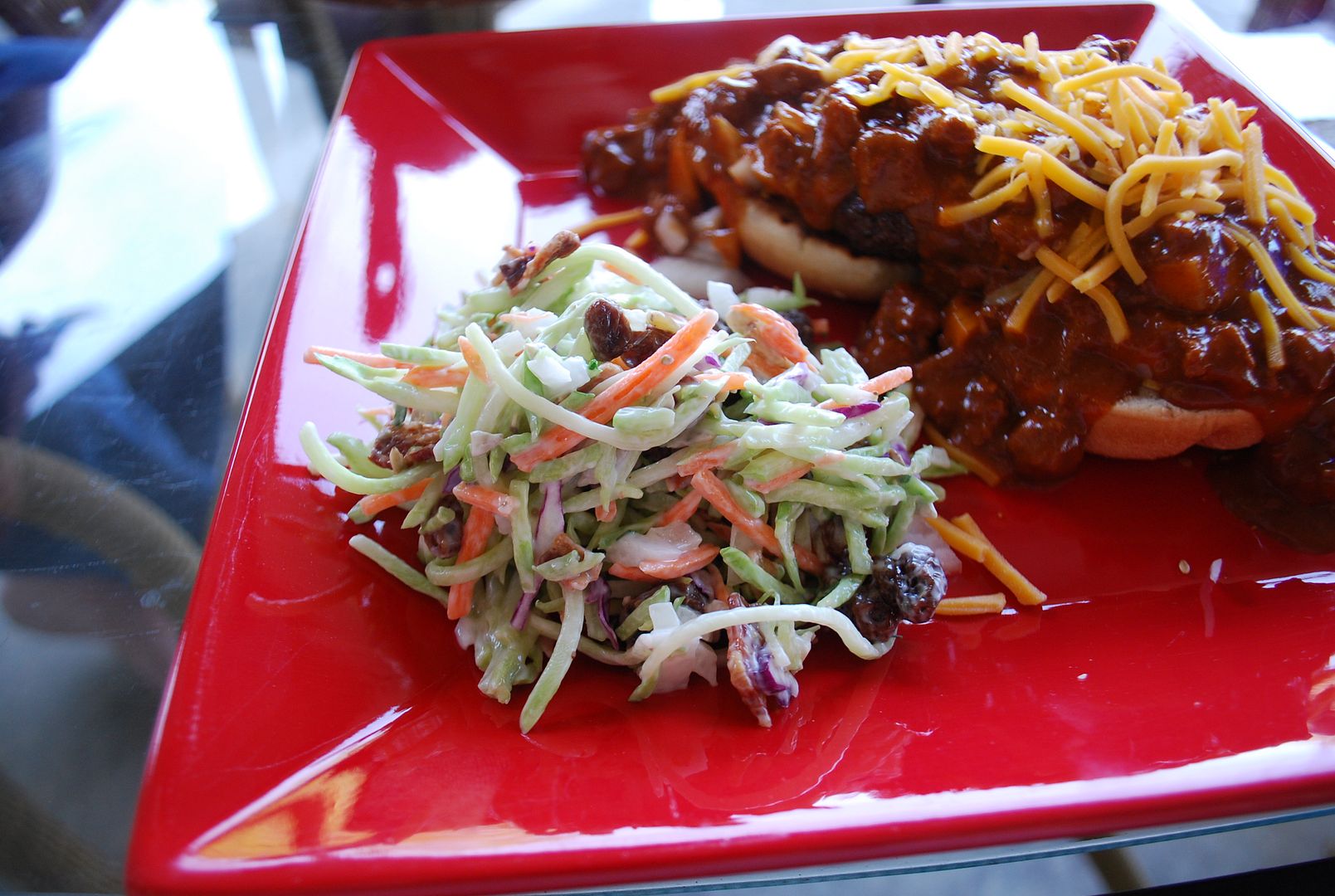 This is a recipe I'll bet everyone has made at least once. There is a similar recipe on the back of the bag of what is now called Broccoli Slaw.
Back in the day, there was Broccoli Salad: raw broccoli flowerettes, onions, raisins, chopped bacon and sometimes sunflowers seeds with a tangy sweet mayonnaise dressing.
Then a few years ago the companies that package and market raw and/or frozen broccoli decided they were throwing away a marketable product - broccoli stems. I can hardly blame them. The stems taste good, too. I use as much of the stem as possible when I prepare broccoli from the raw state. And if I'm making broccoli soup, the peeled and chopped stems go right in with the flowerettes. So I applaud the food companies that decided to grate the broccoli stems along with carrots and red cabbage into one convenient package.
Now when I make Broccoli Salad, I use the packaged broccoli slaw instead. But I started using the packaged broccoli slaw before the package included a recipe, so I used my own.
My grandson, Jacob, loves my Broccoli Slaw. I make sure I prepare it whenever he visits. I like that he loves it. His mother?....no so much. Oh, she likes Broccoli Slaw, too, but she doesn't like the ration she gets from Jacob when
she
prepares it.
Has your husband ever said to you,
"You don't make that like my mother! It doesn't taste like hers."
Which generally receives the response,
"Well, that's because I'm not your mother!
That's sort of what my daughter-in-law Kelly has to put up with....
That doesn't taste like Grandma's Broccoli Slaw!"
Well, now it's time for Jacob to man up! He's a good cook. He's a creative cook. He knows how to handle himself in the kitchen pretty darn well. So for Jacob, who is fast approaching his 18th birthday and almost ready to venture out into the world on his own, here is the recipe for Grandma's Broccoli Slaw. The recipe makes a large bowl full, but is easily cut in half.
No more excuses Jacob and no more complaining.
Grandma's Broccoli Slaw Salad
PRINTABLE RECIPE HERE
2 packages raw Broccoli Slaw
1 cup raisins
1 cup sunflower seeds - I've also used pecan chips and they are tasty as well
8 slices bacon, cooked and roughly chopped
1 small red or yellow onion, cut in a small dice
Dressing:
1-1/2 cups Helman's lite mayonnaise (it's Best Foods in the west)
3 Tablespoons cider vinegar
1/3 cup Splenda or plain white sugar
1 teaspoon whole celery seed
Combine packaged broccoli slaw, raisins, sunflower seeds, chopped bacon and diced onion in a large serving bowl. Toss to mix well.
In a separate bowl or large cup, whisk together mayonnaise, vinegar, sugar (or Splenda) and celery seed. Add dressing to the salad and toss to mix well; chill thoroughly before serving.