I was going through my cupboards a few days ago and found a jar of apple butter that was about to expire.

I have learned not to keep food items beyond their expiration date.

Up until a few years ago, I was not what you would call an avid baker. But once I started this blog, I began experimenting a bit more. I found a recipe for Baklava Muffins. They sounded really good, the reviews were great and it was a Nigella Lawson recipe, so how could I go wrong? Well, they turned out awful!

The cupcakes were tough and tasteless. I blamed the recipe.

A few weeks later, as I was preparing to make another batch of cupcakes, I happened to notice the expiration date on the bottom of the baking powder - September 1998. Oops. No wonder my Baklava Muffins were such a flop. Sorry Nigella. My bad.

I haven't tried to make Nigella's muffins again but since then I closely monitor expiration dates.

So back to the jar of apple butter. What was I going to do with a whole big jar of apple butter?

Once again, I began scouring food blogs for recipes and I found this one. I made only one change...I added a can of apple pie filling, hence the name Apple-Apple Butter-Custard Pie.

This was probably the second easiest pie I've ever made. The easiest was the Chocolate Chip Cookie Pie I made a few days later, which was eaten so quickly I didn't even get a chance to photograph it.

If you are a food purist, this is not the recipe for you. The only fresh ingredient - the eggs. I used a premade pie crust and the rest of the ingredients are canned, except the eggs.

You won't need any other spices besides the vanilla extract because the apple butter and apple pie filling will sufficiently season the pie.

This pie, despite its processed origins, received rave reviews from my husband, my sister and my neighbors. The consensus was, however, that it is even better served cold than at room temperature. And, of course, much better with a squirt of processed, pressurized whipped cream.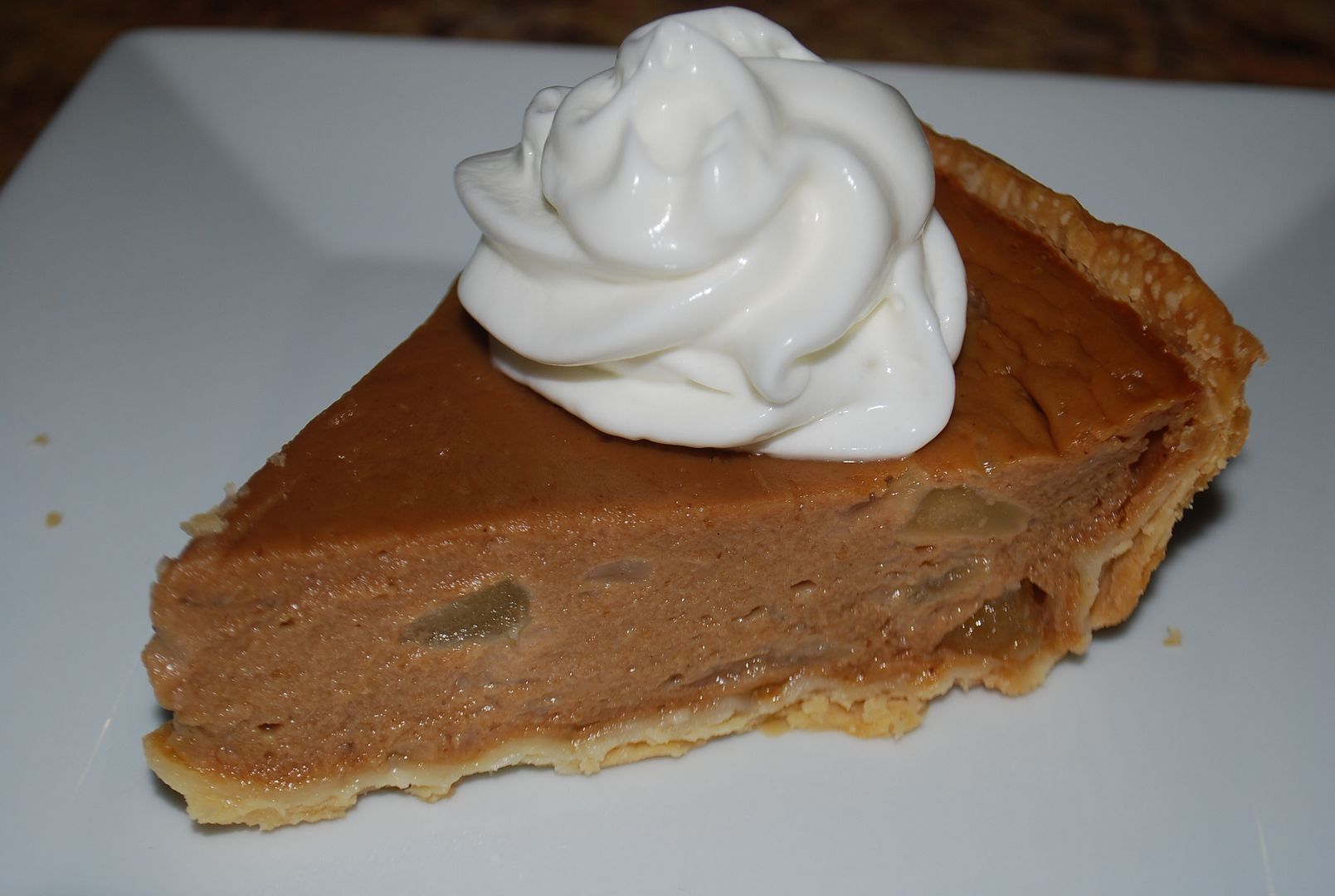 Apple-Apple Butter-Custard Pie
PRINTABLE RECIPE HERE
1 9-inch pre-made rolled pie crust, room temperature
1 16-ounce jar of apple butter
1 12-ounce can evaporated milk
3 large eggs
1/2 teaspoon vanilla extract
1 - 14-ounce or 15-ounce can apple pie filling
Preheat oven to 350F.
Unroll prepared pie crust and arrange in pie pan.
In a medium sized bowl, whisk together apple butter, evaporated milk, eggs and vanilla extract. Stir in apple pie filling. Pour into prepared pie crust.
Bake for 55-60 minutes, or until center is mostly set (it might jiggle slightly
when moved) and a sharp knife inserted near the center comes out mostly clean.
Cool to room temperature before slicing and chill in the refrigerator for at least 2 hours before serving.