After the whirlwind month of May, I'm back from vacation.

I spent a week on Anna Maria Island (Florida) with my youngest son's family, a week in the San Francisco Bay Area with my oldest son's family and a weekend in Fayetteville for my nephew's wedding. My trips included 5 days of driving and 3 days of flying, one of my flight days interrupted by flight cancellations due to weather. Whew!

It was a great vacation, but I'm glad to be home and back in the kitchen.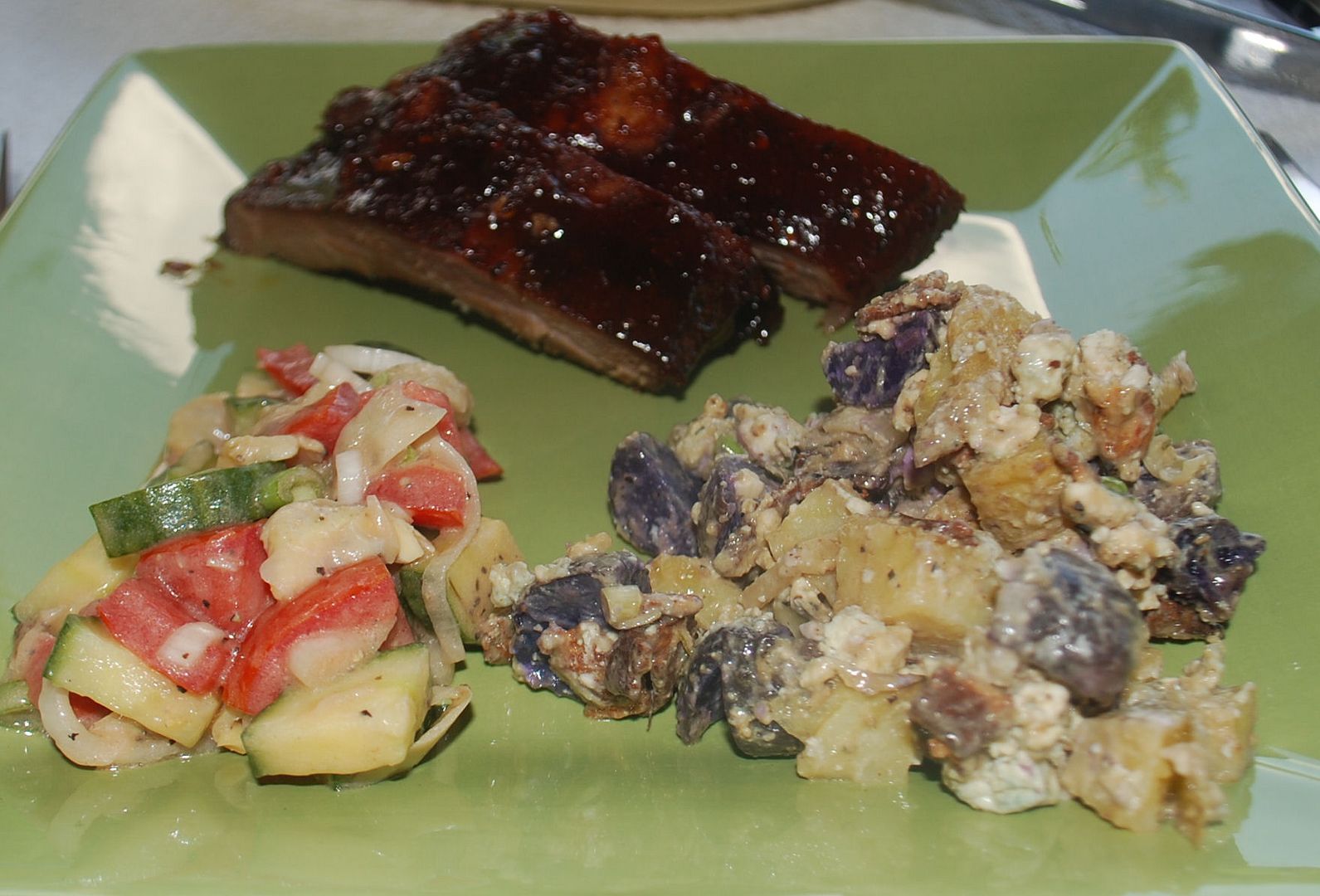 I made
these ribs
for dinner last night and served them with a Roasted Potato Salad and a simple tomato, cucumber, onion and artichoke heart salad marinated in a vinaigrette.
While I was in Florida, my son made his delicious version of potato salad. As he was putting it together, he called out the ingredients as I quickly noted them in my iPhone. I've already made this salad twice since then -- once while in San Francisco and again for last evening's dinner.
When I was in local grocery store on Tuesday, I picked up a bag of beautiful purple potatoes and used them with the Yukon gold potatoes called for in the recipe.
For this salad, the potatoes are roasted instead of boiled and the dressing is a cross between a mayonnaise and vinaigrette -- a little creamy, a little tangy but with a little bite. And, of course, you can't go wrong with bacon.
Chris' Roasted Potato Salad
PRINTABLE RECIPE HERE
7 small to medium Yukon gold potatoes, cut into bite sized pieces
3 tablespoons olive oil
Kosher salt and fresh ground pepper
5 green onions, sliced thin
5 slices bacon, cooked and crumbled (reserve 1 tablespoon of bacon grease)
1 small container crumbled Blue cheese
For the dressing:
1/2 cup mayonnaise (I used reduced fat)
1 teaspoon prepared mustard
1-1/2 teaspoons grated prepared horseradish
2 teaspoons balsamic vinegar
1/2 teaspoon Italian seasoning
1 tablespoon reserved bacon grease
Preheat oven to 400 degrees.
Place the cut up potatoes in a bowl and drizzle with the olive oil and sprinkle lightly with the salt and pepper. Mix until all the potatoes are lightly covered.
Place the potatoes in an even layer on a large cookie sheet and bake 35 to 40 minutes until done. You should be able to easily pierce the potato with a fork. Remove from the oven and allow to cool.
While the potatoes are roasting, fry the bacon until crisp (I cut up the strips of bacon before frying). Remove from the pan and drain on a paper towel, reserving bacon grease.
To make the dressing, put all of the dressing ingredients in a small bowl and mix well until smooth.
Place the cooled potatoes in a large bowl. Add the cooked and crumbled bacon, green onions and crumbled blue cheese and toss to combine. Add the dressing and toss the salad until all the ingredients are coated well.
Refrigerate until ready to serve.
The Date Pudding Cobbler isn't really a pudding or a cobbler. It's a very moist, gooey cake-like concoction.
I was looking for something tasty for last night's dessert, but I didn't want to run to the store for anything, so I started scouring my cookbooks and recipes for something that would use what I already had on hand. I already had the staples: flour, brown sugar, baking powder, etc. I had some medjool dates leftover from when I made
these scones
and a few walnut pieces. And there was an unopened tub of Cool Whip in the freezer. Cool.
I used all of my remaining medjool dates, which measured just over 1 cup after seeding and chopping. That was the only change I made to the recipe.
Date Pudding Cobbler
PRINTABLE RECIPE HERE
1 cup all-purpose flour
1-1/2 cups packed brown sugar, divided
2 teaspoons baking powder
1 tablespoon cold butter
1/2 cup milk (I used 2%)
3/4 cup chopped dates (I used just a little over 1 cup)
3/4 cup chopped walnuts (I think pecans would be good, too)
1 cup water
Whipped cream or Cool Whip and ground cinnamon if desired
Preheat oven to 350 degrees.
Grease an 8-inch square baking pan with butter or cooking spray.
In a bowl, combine the flour, 1/2 cup of the brown sugar and the baking powder with a whisk. Cut in the butter until it is crumbly.
Add the dates and walnuts and toss to combine.
Gradually add the milk a little at a time mixing until combined.
In a saucepan, combine the water and remaining 1 cup brown sugar and bring to a boil. Remove the pan from the heat, add the date mixture and mix well (the batter will be thin).
Pour the mixture into the prepared baking pan. Bake at 350 degrees for 30 to 40 minutes (mine took 40 minutes) or until golden brown.
Remove from oven and cool.
Cut into squares and serve topped with a little whipped cream or Cool Whip and a sprinkling of cinnamon.