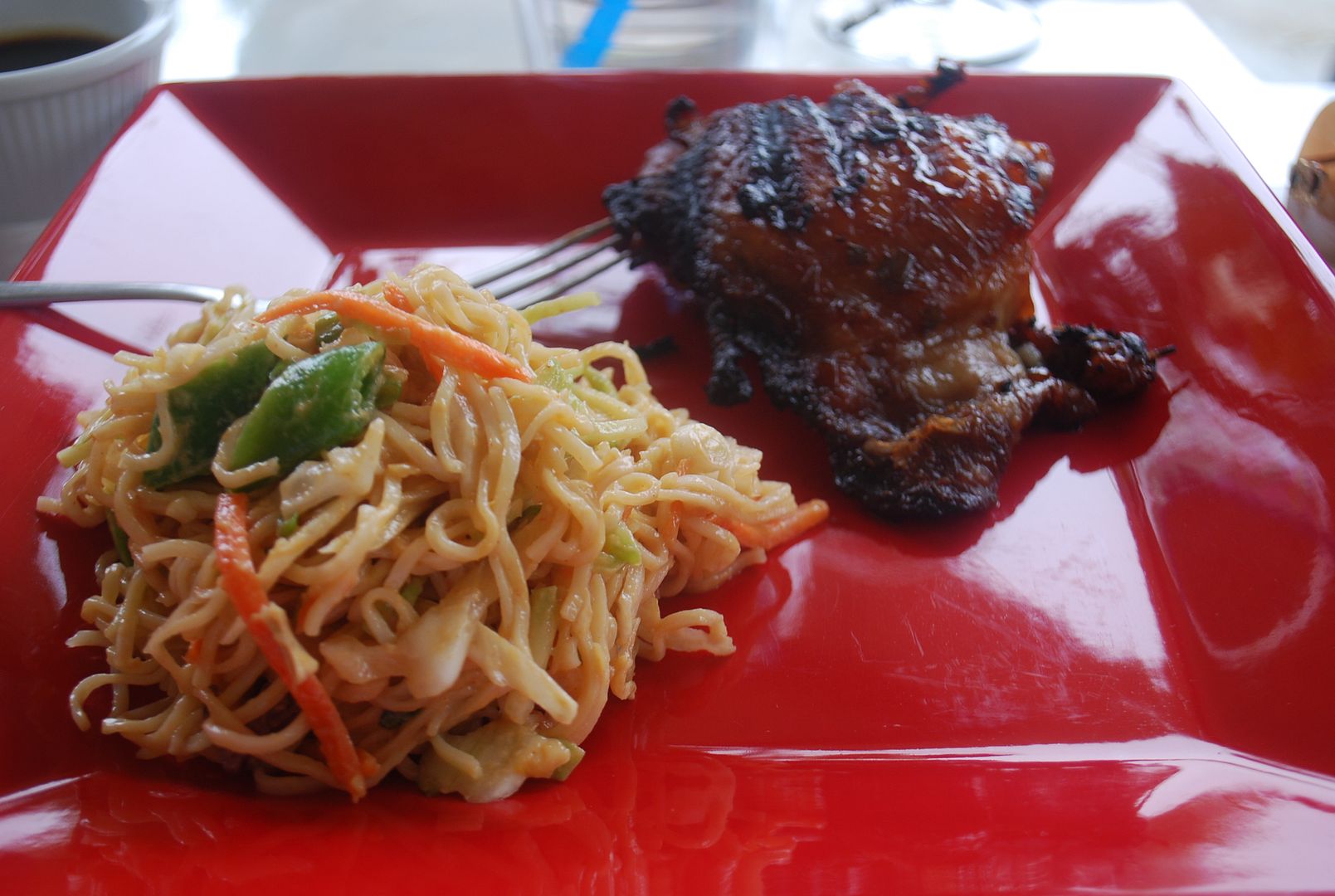 I'd read about it in
Rachel's Rumors
, a column in our local newspaper but quite frankly completely forgot about it until Tom and I were driving down a main road in our little town, heading toward the next county to purchase a bottle of white wine to serve with dinner and Tom yelled,"Hey! There's a new international food store!"
I didn't want to take my eyes off the road because I am, of course, a careful and conscientious driver, so I said, "Let's stop on the way back." I am so glad we did.
Comfort International Foods & More is a small store, but it's packed with lots of goodies, some familiar and some very unfamiliar. We very slowly and deliberately perused every aisle and shelf, reading the labels of cans and packages of vegetables, fruits, sauces, condiments, spices and dry goods.
The owner and her daughter were very patient with all of our questions about unfamiliar ingredients and products, explaining how to cook the unusual fresh produce items they carry and how some of the ingredients are used in traditional African dishes. Amongst the couscous, various rices and beans, Tom came across an item we'd never heard of:
Fufu flour
. According to the owner's daughter, the flour is made into a paste and, with the fingers, dipped into a sauce, soup or stew for additional flavor. As she described the dining ritual, Tom remembered seeing something similar in an episode of
Anthony Bourdain's No Reservations
. Who would have ever thought we'd have the opportunity and the ingredients to recreate such a culinary experience right here in our little town in central Arkansas? We are a town of Walmart and Kroger. Not many international culinary adventures going on here.
I didn't purchase anything exotic this time. I bought a large bag of red jasmine and wild rice and a large package of Chinese noodles labeled "Family Noodles." But the store also carries unusual and intriguing items like goat meat and cow feet. I remembered somewhere in the movie, Julie & Julia, the character of Julie Powell needed a cow foot for a dish she was preparing from Julia Child's cookbook, Mastering the Art of French Cooking, but, for the life of me, I couldn't remember the dish she was going to make....until I got home and looked it up. Aspic. Beef jello. Um. No, thank you. But I'm really toying with the idea of making something with goat meat.
I cooked the red jasmine rice first in some chicken broth for a simple steamed preparation. It was nutty and flavorful.
The large package of dry Chinese noodles resembles the ramen noodles that are sold in individual packages with "flavor packets," except the Chinese noodles are of much better quality. Like you, I buy Top Ramen occasionally, but I always throw the seasoning packet away...way too salty for me. Sometimes for lunch I'll boil just the noodles in chicken broth, add a few shredded carrots, a handful of broccoli or cabbage coleslaw mix, some slices green onions or whatever vegetables I have on hand. It makes a nice soup. But without the other ingredients, the ramen noodles have kind of an "off" taste to me. The Chinese noodles I bought at Comfort International Foods & More are packaged stacked in sixteen individual servings, perfect for an individual soup lunch or using two or three for a salad or noodle side dish for dinner.
Sunday night I made
this Teriyaki Chicken
and decided to use some of the noodles I had purchased in a Thai Peanut Noodle Salad.
Thai Peanut Noodle Salad
1 package spaghetti or linguine noodles (I used three individual rounds of the Chinese noodles I purchased at Comfort International Foods & More)
1 small bag cabbage coleslaw mix
1 bag broccoli slaw mix
6 green onions, sliced thin
1/4 cup dry roasted peanuts, roughly chopped
For the Thai Peanut Salad Dressing:
3/4 cup peanut butter
juice of 1 lime
3 teaspoons sesame oil
1 tablespoon rice wine vinegar (you can use cider vinegar instead)
2 tablespoons low sodium soy sauce
3 tablespoons honey
2 cloves garlic, finely minced
1 tablespoon grated ginger
1/2 cup chopped cilantro leaves
1/2 cup roasted peanut oil (I cannot find this product here, so I order it online at Famous Foods. You can use vegetable oil, but the roasted peanut oil makes all the difference in the flavor.)
2 to 3 teaspoons of sriracha chili sauce (sriracha is hot, so proceed with caution and taste as you go)
2 tablespoons water
For the dressing, put all of the dressing ingredients in a bowl and whisk until smooth. Remember to add the sriracha a little at time to get the amount of heat desired. Set aside.
Boil the noodles in salted water according to package directions. Drain and rinse in cold water. Drain well again and transfer to a large bowl. Add the prepared salad dressing and mix well.
Add all of your vegetables to the noodles and toss well to combine. Refrigerate until ready to use.
Sprinkle each serving with chopped peanuts if desired.