During my vacation this past May, I spent the first week with my youngest son, Chris, and his family in Florida, which just so happened to correspond with the Mother's Day weekend and Chris' birthday.

Chris and Kelly put on a huge spread for Mother's Day, inviting friends and co-workers to enjoy their culinary efforts:

Eggs Anna - Chris' re-creation of a breakfast dish he used to order at a small cafe in Encinitas, California. A toasted English muffin, spread with a nice layer of mashed, lightly seasoned avocado, topped with eggs scrambled with bacon and heavily drizzled with hollandaise sauce. Without a doubt, my favorite breakfast dish.
An egg, ham, cheese and green chilis casserole
Piggy Pudding - Paula Deen's recipe for a sausage, apples and cornbread casserole topped with pure maple syrup
A beautiful fruit tray
And, of course, champagne
I'm coming out of the closet now. I'm not a Paula Deen fan. I know. There must be something drastically wrong with me, but I just don't care for her food. I've tried several of her recipes, none of which has impressed me or Tom. If Tom won't eat it, it's no good.
So, surprisingly,
Paula's Piggy Pudding
is a hit in this house. I think I've made it at least three times since I've been home. Tom says it is one of his favorite breakfasts.
I have changed the recipe somewhat by using pre-cooked link sausages, pre-cooking the apples a little and lowering the baking temperature so the cornbread doesn't dry out.
I sprayed a an 8"x8" pan with cooking spray, then cut the link sausages into pieces.



I melt the butter in a medium frying pan, add the apples and 2 tablespoons of maple syrup and cook about 5 minutes, turning the apples frequently. Then layer the partially cooked apples ~ butter, maple syrup and all ~ over the sausages.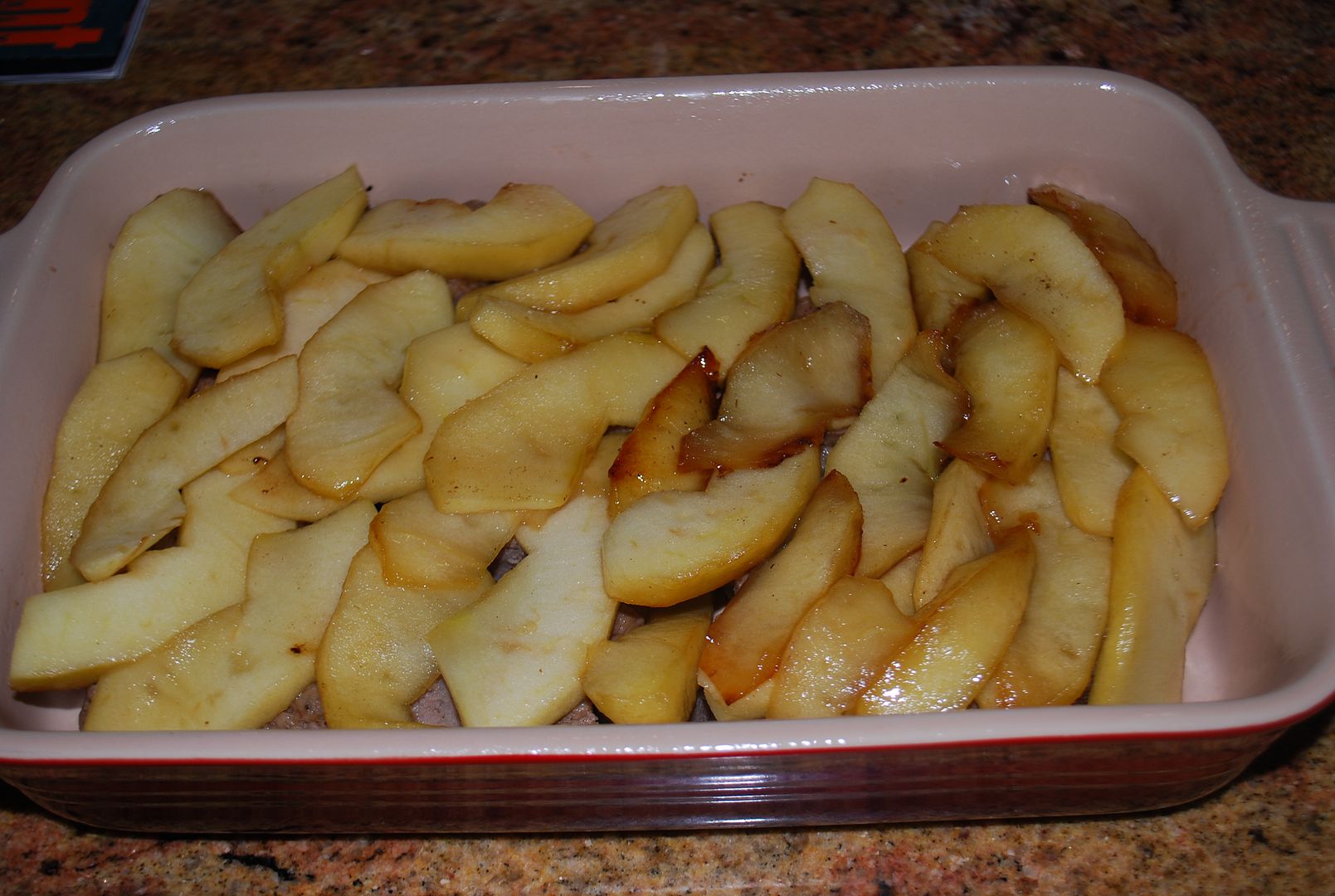 Then I mix up the cornbread according to package directions and pour the batter evenly over the layer of apples.



Bake the casserole in a 400 degree oven for 22 to 25 minutes, until the cornbread is done and starting to brown, then remove it from the oven and drizzle with remaining pure maple syrup. Allow to sit about 5 minutes before serving.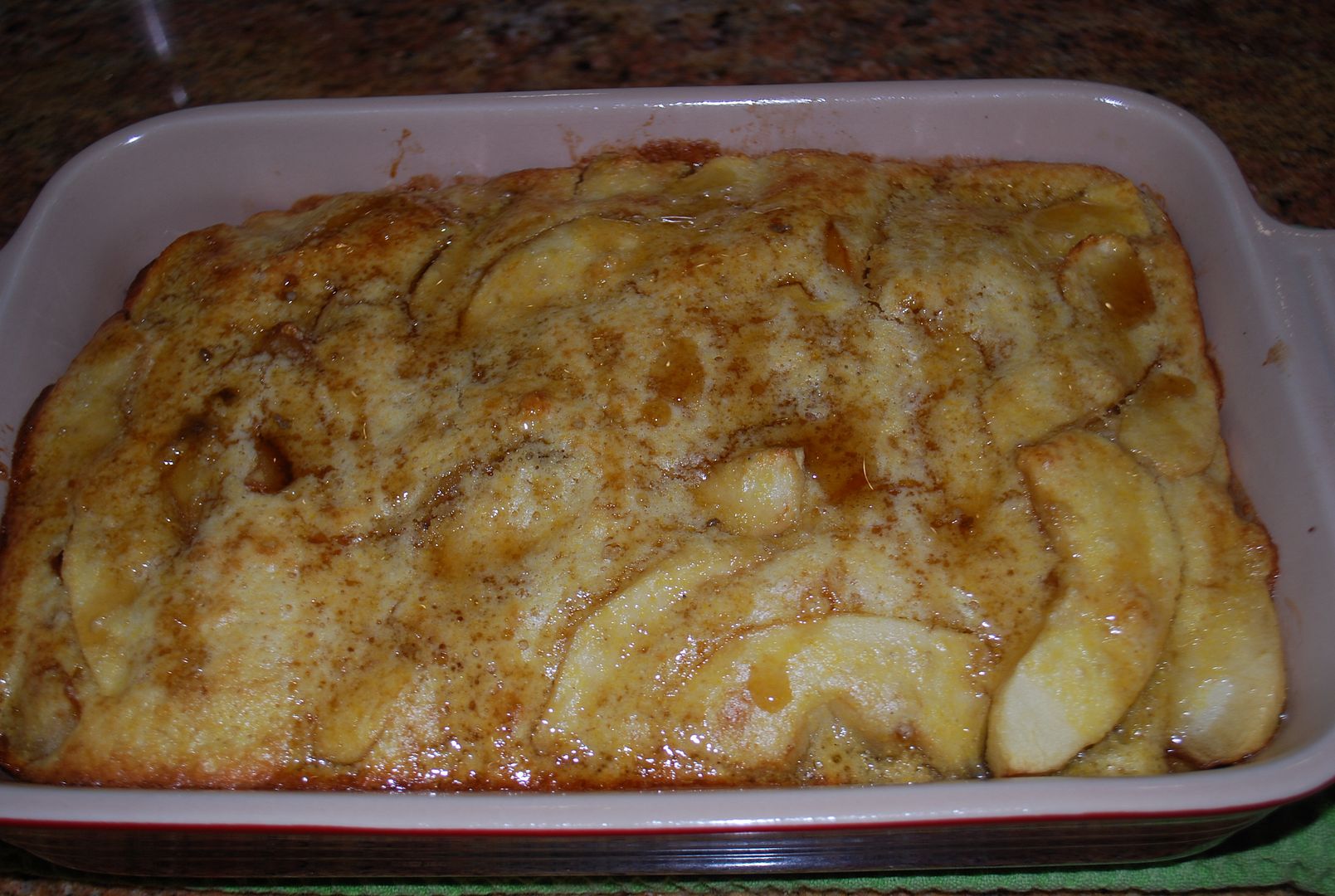 To serve, cut into squares and serve with more maple syrup if desired. Our favorite way to eat this casserole, by far, is topped with an egg fried over-easy.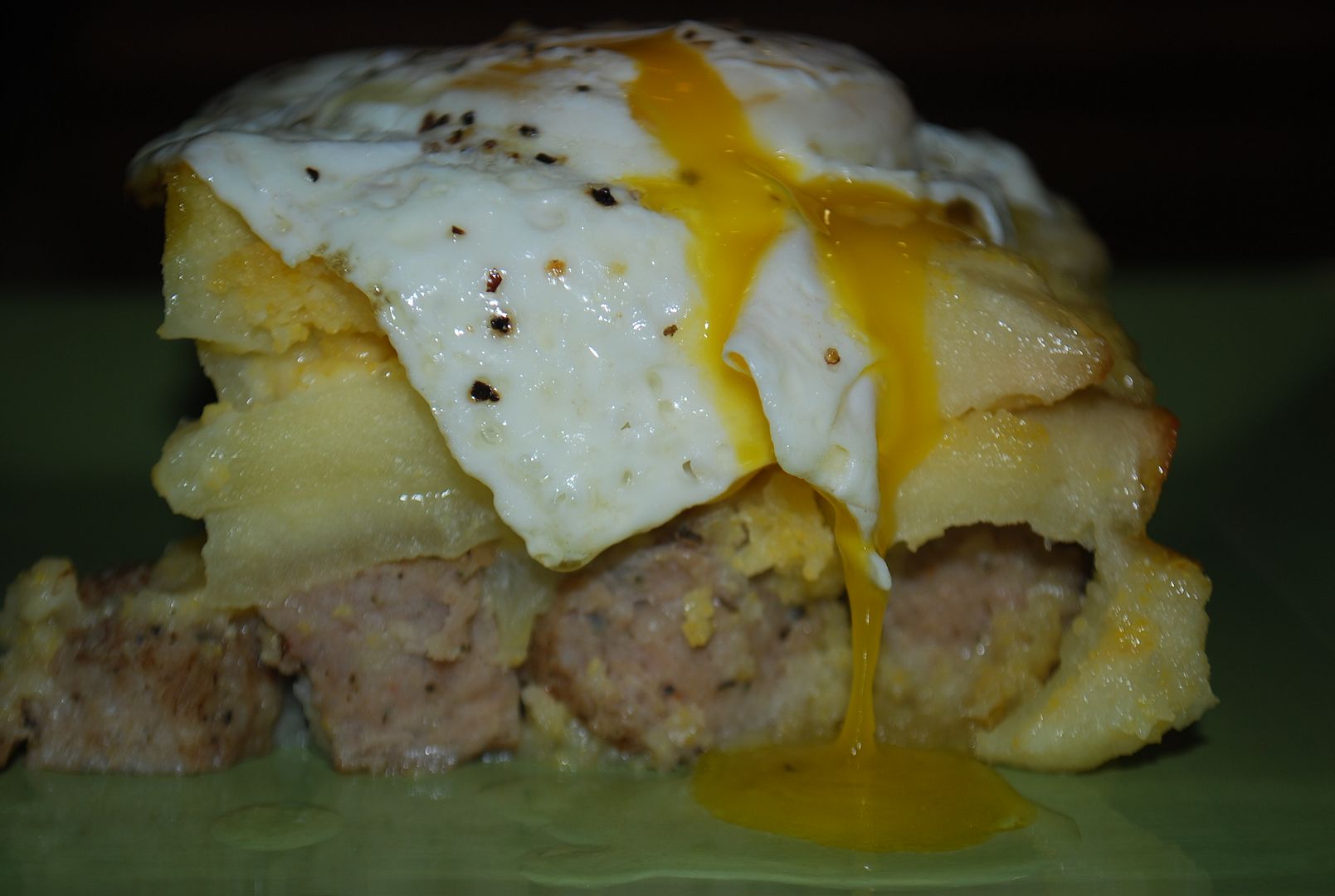 Piggy Pudding
adapted from the recipe by Paula Deen
PRINTABLE RECIPE
1 package of 12 Jimmy Dean Fully Cooked Sausage Links (I use Turkey Sausage)
2 granny smith apples, peeled, cored and sliced
2 tablespoons butter
1/4 cup pure maple syrup
1 envelope Martha White Sweet Yellow Cornbread Mix
(which calls for 1/2 cup of milk and 1 egg)
or you can use a small box of Jiffy brand cornbread mix prepared according to package directions
Preheat oven to 400 degrees.
Spray an 8-inch X 8-inch baking pan with cooking spray.
Cut the cooked sausage links into pieces and spread evenly in the bottom of the prepared baking dish.
In a medium frying pan, melt 2 tablespoons of butter. Add the apples and 2 tablespoons of the 1/4 cup pure maple syrup, reserving the remaining syrup. Cook the apples for about 5 minutes, then layer evenly over the sausage pieces. If there is any remaining liquid in the frying pan, drizzle it over the apples.
Mix up the cornbread according to package directions and pour it evenly over the layer of apple slices.
Bake at 400 degrees for 22 to 25 minutes until the cornbread is done and just starts to brown.
Remove from the oven and immediately drizzle the remaining maple syrup evenly over the top of the casserole. Allow to sit for a few minutes before cutting into squares to serve.