I'm not a dessert person. I know you can't tell from my blog posts because I post so many of them, but they're not for me. I'm happy with a bite or two or maybe nothing at all after a good meal. But Tom, my sons, daughters-in-law, grandchildren, other family members, friends and guests...that's another story. They all have their favorites and I aim to please.

When I saw this dessert at Kevin and Amanda's, I knew I'd have to bake it.

Now the photo isn't as pretty as theirs, but I think you get the overall idea: THIS IS GOOD!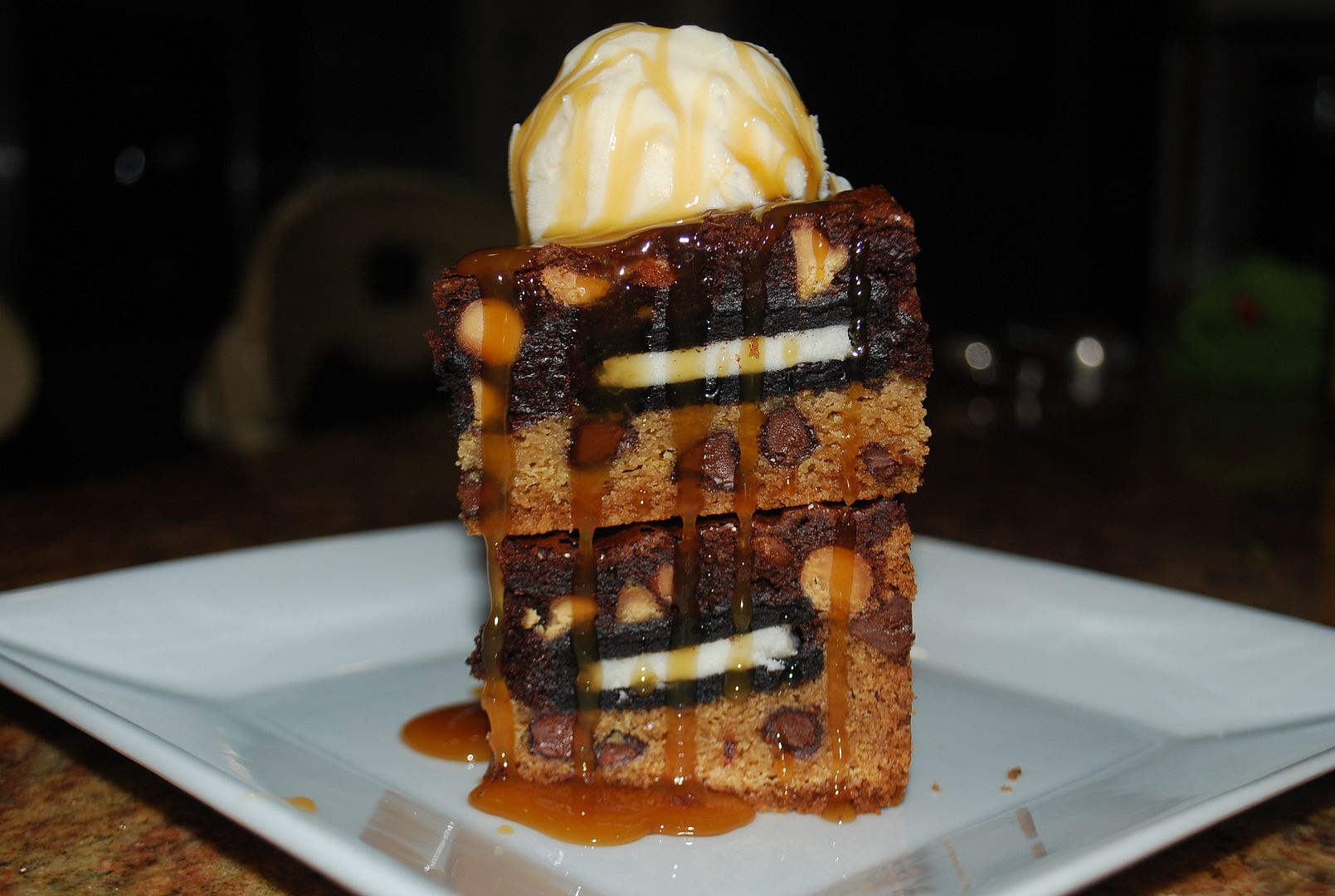 Look at that. A layer of chocolate chip cookie, topped with a layer of double-stuffed Oreos, topped with a layer of soft, fudgey brownie. I took the recipe one step further by adding a cup of peanut butter chips to the brownie batter. Top it with a scoop of ice cream and a little warm caramel and it's as good as any dessert you'd get anywhere in town.
How good is it? The day I baked it, Tom looked at the pan and said, "Get most of that out of here or I will eat the whole thing by myself." So, I cut a nice big piece off, leaving about a third of it for us, put the larger piece in a pan and Tom took it to our next door neighbor who has three growing girls. A couple of days later, my neighbor brought back the clean pan with two handmade thank you cards. This is how much my 11-year old neighbor loved this dessert (I've erased her name to protect the innocent):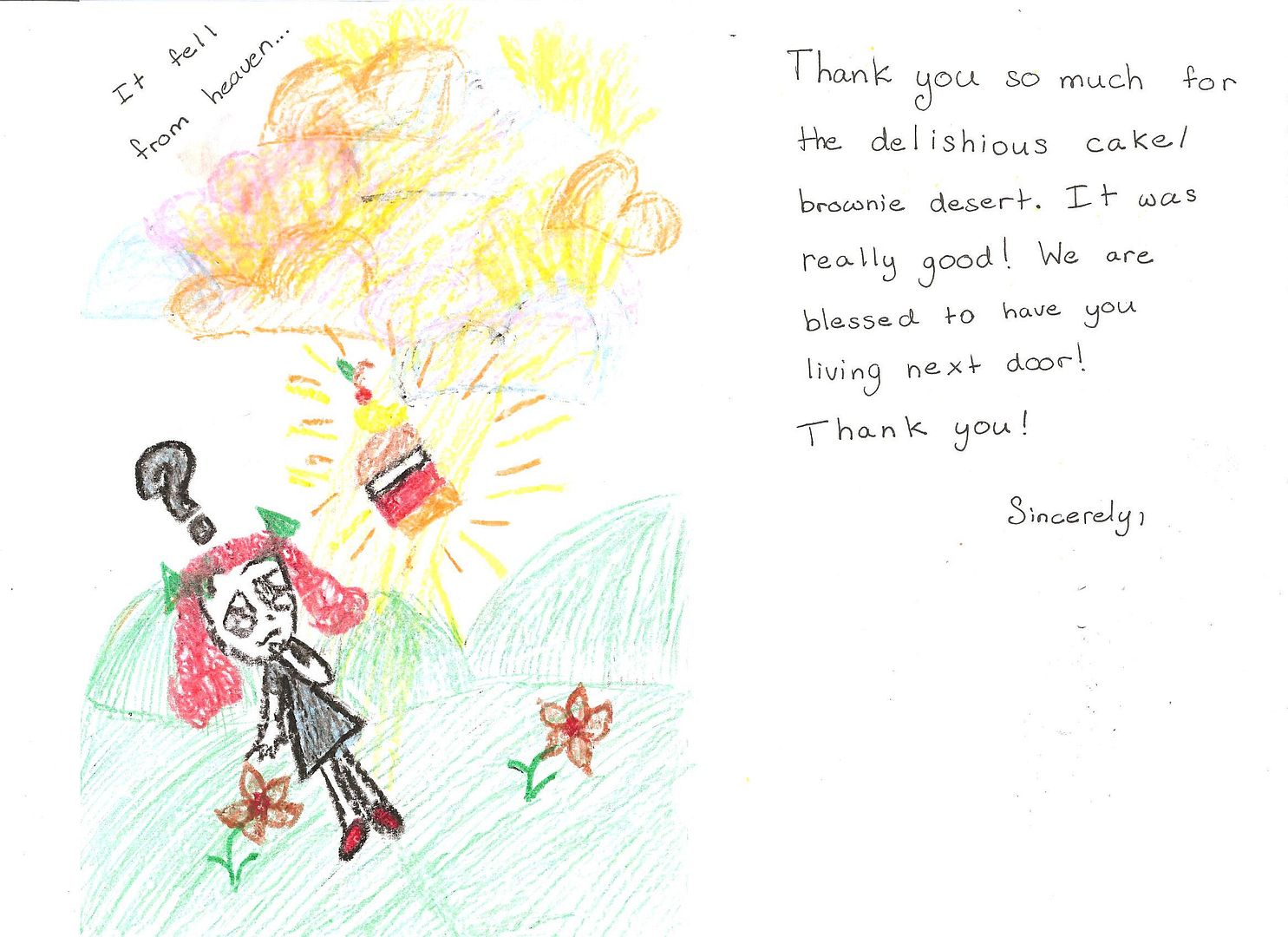 You just can't get a better endorsement than
"It fell from heaven."
Ultimate Chocolate Chip Cookie 'n' Oreo 'n' Fudge Brownie Bar
Adapted from Kevin and Amanda
PRINTABLE RECIPE
1 cup (2 sticks) butter, softened
1 cup granulated sugar
3/4 cup light brown sugar
2 large eggs
1 tablespoon pure vanilla extract
2-1/2 cups all-purpose flour
1 teaspoon baking soda
1 teaspoon salt
2 cups (12-oz package) of chocolate chips
1 package Double Stuf Oreos
1 package family size (for a 9X13 pan) Chocolate Fudge Brownie Mix (I used Duncan Hines)
1/4 cup hot fudge topping (this goes into the brownie batter)
plus you will need the ingredients called for in the brownie mix: eggs, water and oil
1 cup peanut butter chips (this is my addition)
Preheat oven to 350 degrees F.
Line a 9-inch X 13-inch pan with parchment paper, making sure the paper goes all the way up the sides, folding in the corners of the pan so that it lays flat against the sides. Spray generously with cooking spray.
Cream the butter and both sugars together in a large bowl for 3 to 5 minutes at medium speed with with an electric mixer until the mixture is light fluffy. Add the eggs and vanilla and mix until thoroughly combined. Set aside.
In another bowl, whisk together the flour, baking soda and salt.
Turn the mixer back on to low and slowly incorporate the flour mixture into the butter mixture until the flour is just combined. Stir in the chocolate chips. Spread the cookie dough evenly in the bottom of the prepared pan.
Top the cookie dough with a layer of Oreos.
Make the brownie mix according to package directions, adding in the hot fudge topping and peanut butter chips. Mix well to combine. Pour the brownie batter over the Oreos and cookie dough. Bake in preheated 350 degree oven for 45 to 55 minutes.
Note: The parchment paper makes it easy to remove the entire bar from the pan in one piece for easy service. And, of course, you may not want to double up on the bars as I did in the photo. A single brownie bar with a scoop of ice cream and some caramel sauce or chocolate sauce, though not as spectacular looking, is just as satisfying...