I have become an addict. I am addicted to Pinterest, a site where people "pin" photos of things they love to their galleries and where other people, like me, who love to drool over photos of great looking food, projects, clothes, organization ideas and just about anything else you can think of, "repin" those photos to our own galleries in addition to whatever we may come across on the web.

I saw a photo of this dish on Pinterest with a link to the recipe on MarthaStewart.com. I've already made it twice.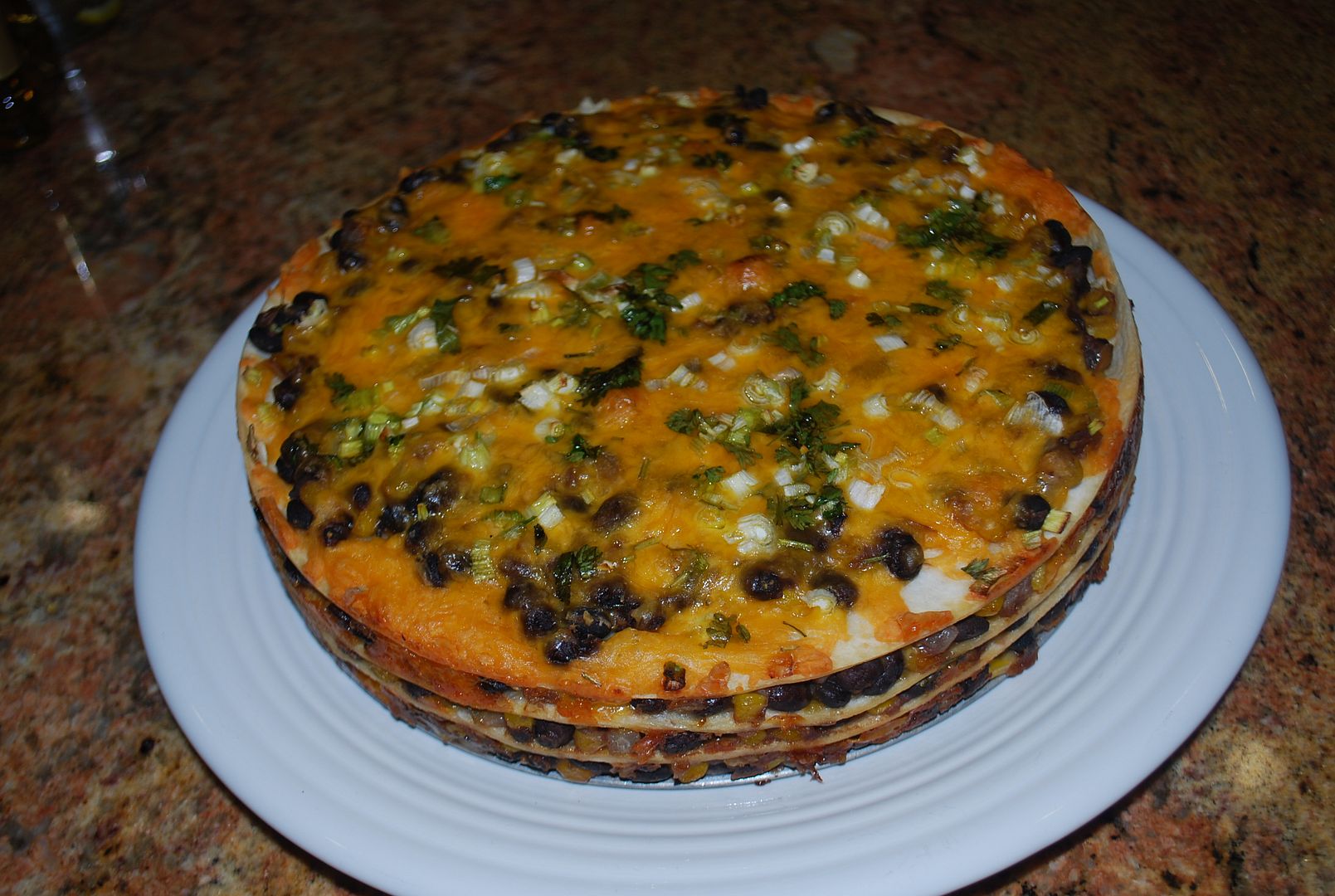 The first time I made it, I only had one can of black beans. My bad. So I used one can of black beans and a can of cannelini beans instead. It worked out fine.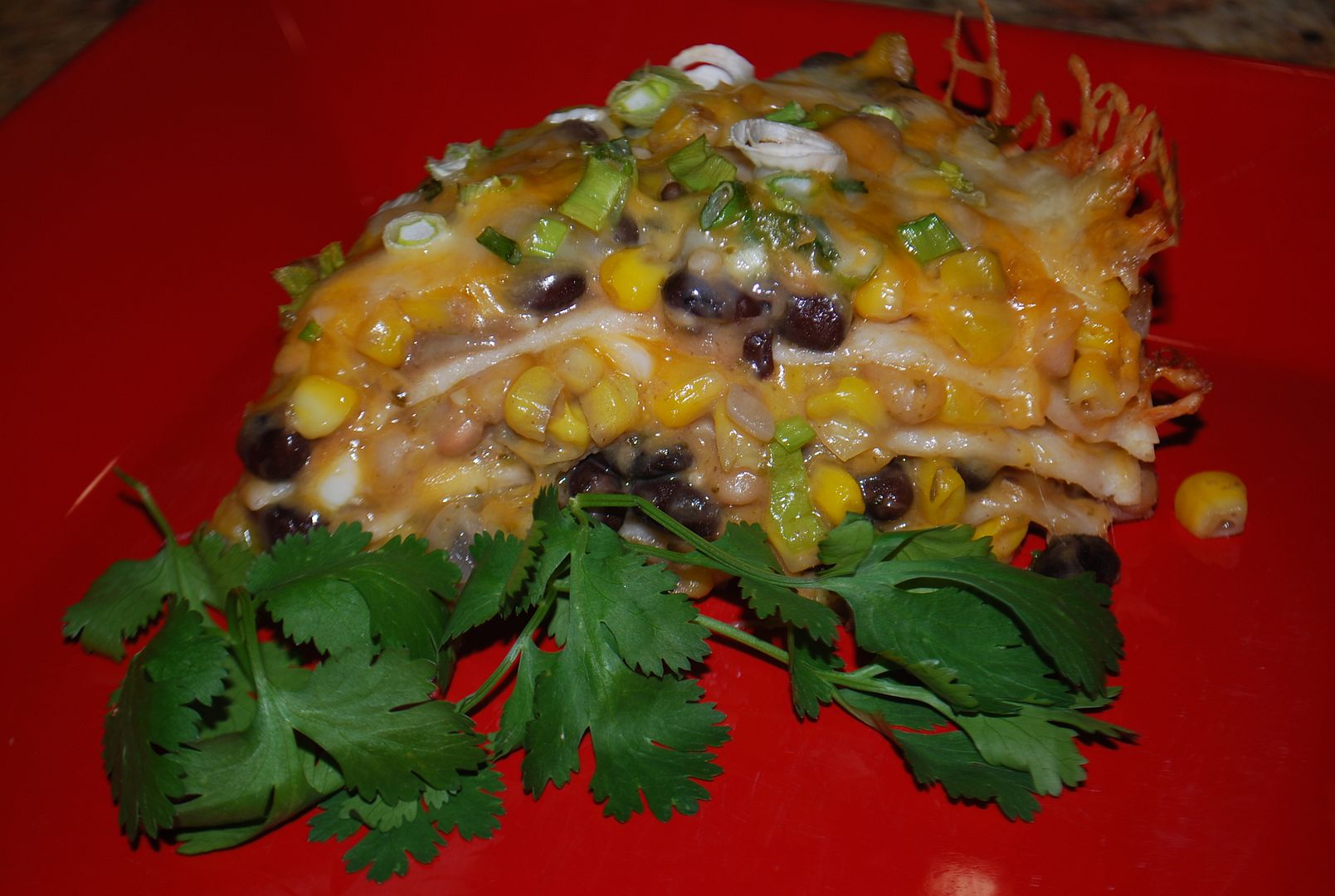 The second time I made it, I decided to make a sauce to go with it. Well,
"make"
is kind of an exaggeration. I didn't do anything from scratch. I poured a small can (10 oz.) of Green Enchilada Sauce into a saucepan, whisked in a 1/4 cup of sour cream and heated it up. The taste and texture is similar to the sauce for Enchilada Suizas. I ladled the sauce over a slice of the tortilla pie and topped it with some sliced avocado. It was even better.
The recipe also calls for a whole minced jalapeno chili. I substituted the jalapeno chili both times with a whole roasted, skinned, seeded and chopped poblano pepper. You get the heat in addition to the smokey flavor from roasting.
The pie is baked in a spring form pan, the same kind of pan in which you would bake a cheesecake, for easy removal and serving.
Tortilla and Black Bean Pie
by MarthaStewart.com, Everyday Food, October 2003
PRINT ORIGINAL RECIPE HERE
4 - 10 inch flour tortillas
2 tablespoons oil
1 large onion, diced
1 jalapeno chile, minced, remove seeds and ribs for less heat (I used a whole roasted, skinned, seeded and finely chopped poblano pepper)
2 garlic cloves, minced
1/2 teaspoon ground cumin
1/2 teaspoon each salt and pepper
2 cans (15 ounces each) black beans, drained and rinsed
12 ounces beer, or 1 1/2 cups water (Using water will significantly change the flavor. If you will not use beer, I would recommend using chicken broth instead of water)
1 package (10 ounces) frozen corn
4 green onions, thinly sliced, plus more for garnish
8 ounces cheddar cheese, shredded (2 1/2 cups)
Preheat oven to 400 degrees.
With a paring knife, trim tortillas to fit a 9-inch springform pan, using the bottom of the pan as a guide. Set aside.
Heat the oil in a large skillet over medium heat. Add onion, jalapeno, garlic, and cumin; season with salt and pepper. Cook, stirring occasionally, until softened, 5 to 7 minutes.
Add beans, corn and beer, and bring to a boil. Reduce heat to medium; simmer until liquid has almost evaporated, 8 to 10 minutes. Stir in green onions and remove from heat. Taste and season with more salt and pepper if needed.
Put the bottom of the springform pan in place and secure the lock on the side of the wall. Put a trimmed tortilla in bottom of springform pan; layer with 1/4 of the beans and 1/2 cup of cheese. Repeat three times, using 1 cup cheese on top layer.
Bake in the preheated until the pie is hot all the way through and the cheese has melted, about 20 to 25 minutes. Place the pan on a serving dish. Unlock and remove the side of the pan; sprinkle pie with scallions. To serve, slice into wedges.