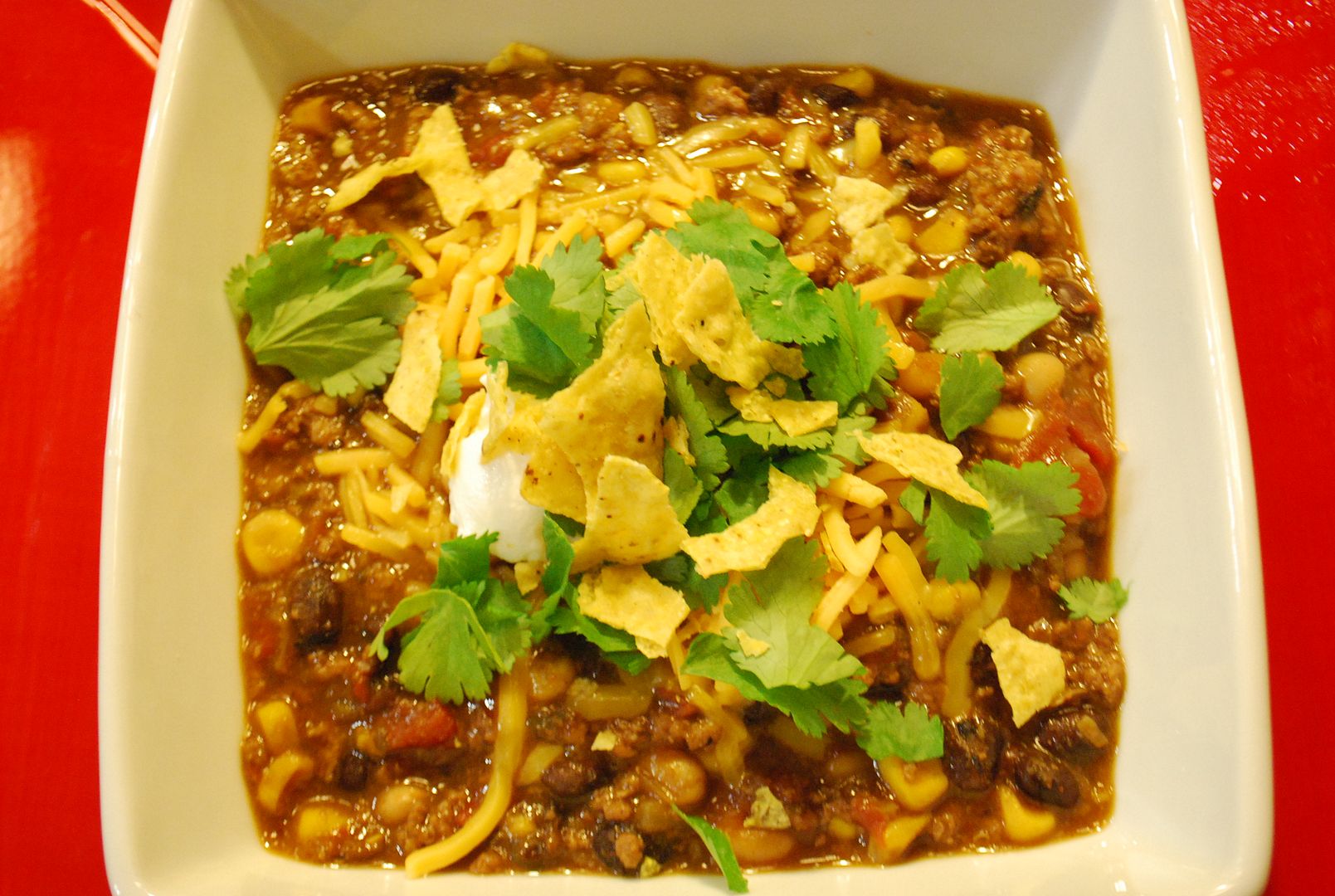 I am not usually one to use almost all canned or frozen foods in any one recipe, but this recipe contains almost all canned or pre-packaged ingredients and various seasonings. Granted, I could have cooked up two kinds of dried beans. That would take about 2 hours. I could have used fresh tomatoes, but I would first have to quickly blanch them in boiling water, then plunge them into a bowl of ice water in order to peel them before dicing. And for the beef broth, well you know what kind of time it takes to make a good beef broth from scratch.
Actually, the only "fresh" consolation I made was to use my own homemade taco seasoning mix, which I store in a small canning jar.
There are many versions of this recipe on the web. I Googled "Taco Soup" and got 14,800,000 results. I'm assuming many of those are duplicates, but I could be wrong. Anyway, this is my version. It is quick to put together, generally on the table in about 30 minutes. And it's yummy, warm and filling for a cold winter evening.
Ladle the soup into a bowl and dress it up a little with some shredded cheddar cheese, sour cream, chopped avocado, crushed tortilla chips or cilantro - whatever Mexican style garnishes flip your switch.
Taco Soup
Ingredients:
1 to 1-1/4 lbs. ground turkey or ground beef
1 medium onion, diced
1 tablespoon vegetable or olive oil
1 can black beans, undrained (if you don't have black beans, kidney beans are a good substitute)
1 can pinto beans, undrained (again, if you don't have pinto beans, white beans are fine)
1 can whole corn, undrained (if you don't have canned corn, add about 1-1/2 to 2 cups frozen corn with about 1/4 cup water)
1 - 14-ounce can diced tomatoes (or you could also use stewed tomatoes)
1 can Rotel (tomatoes and green chilis), undrained
3 tablespoons taco seasoning mix (or one packet of your favorite brand of taco seasoning mix)
2 tablespoons of dry ranch dressing mix (or one packet)
2 cups beef broth (I use Minors Beef Base to make the broth)
2 poblano peppers, roasted, seeded and chopped (I grow the poblanos every year and freeze them so I always have them on hand, but you can substitute one small can of diced green chilis)
Crushed tortilla chips, shredded cheese, sour cream, chopped avocado, diced onions, cilantro for garnish
Directions:
In a large pot or Dutch oven, heat the oil and add the onion. Cook the onion until translucent, about 4 to 5 minutes.
Add the ground meat to the pot with the onions and cook, breaking up the meat with a spoon, until it is no longer pink. Spoon off as much of the fat as possible. Sprinkle both seasonings over the meat and stir to combine.
Add the cans of beans (liquid and all), corn (with liquid), tomatoes (with liquid), Rotel (with liquid), beef broth and peppers. Bring to a boil and turn down the heat and simmer the soup while you set the table.