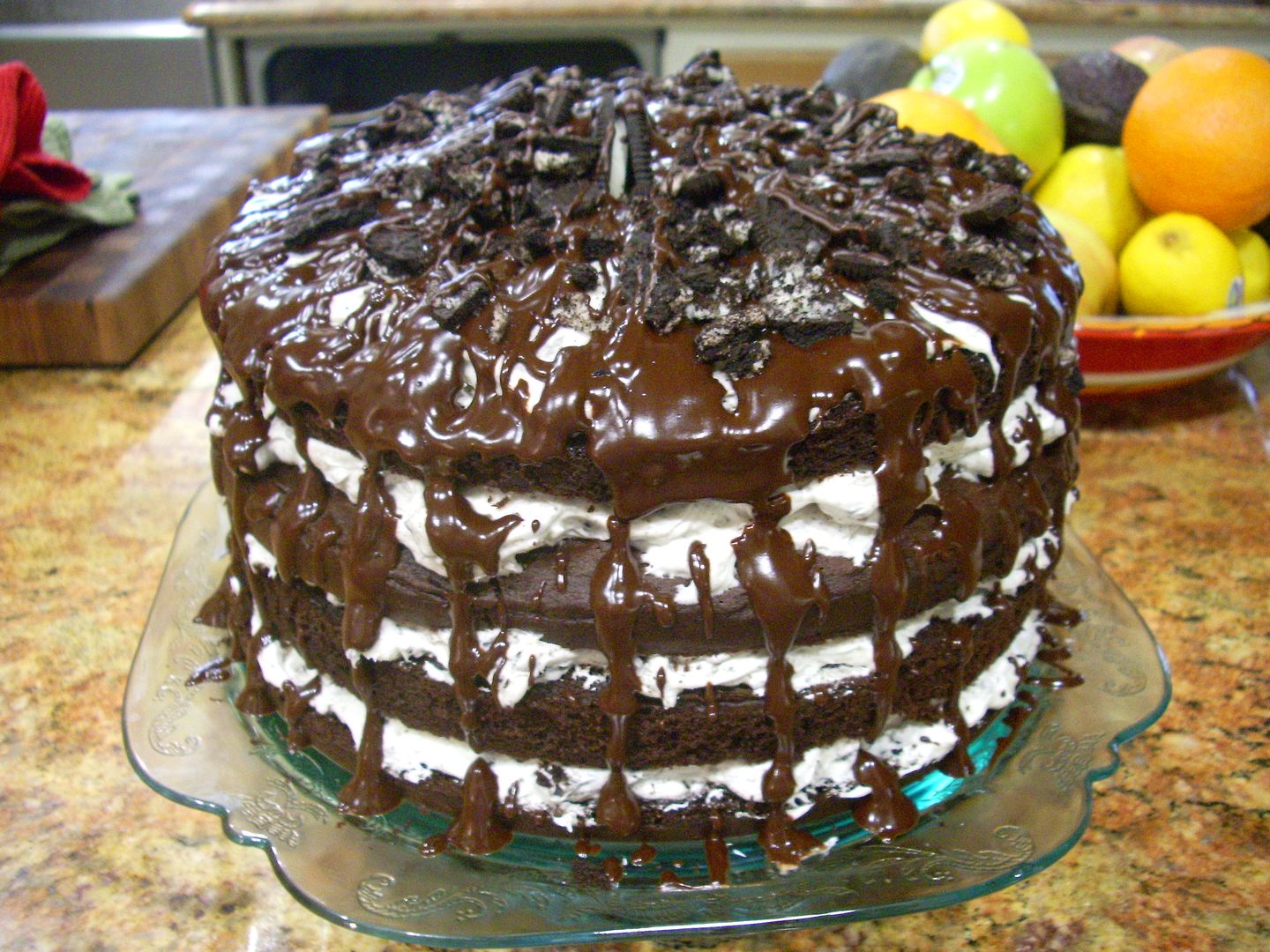 I came across a recipe for this cake several years ago. It is supposed to be a copycat recipe for a cake that was served at TGI Friday's, but I cannot confirm that. I haven't eaten at TGI Friday's in years and when I did, I only ordered the Asian Chicken Salad. I never looked at the dessert menu.
The recipe includes directions for a homemade chocolate cake, but the cake didn't impress me all that much. So the next time I made it, I substituted a Duncan Hines chocolate fudge cake. The texture was much better.
The cake is a little time-consuming, but it's worth it because it is a stunning presentation. The tricky part is using a long serrated edge knife to cut the cake layers in half horizontally.
This video
from Zoeybakes.com demonstrates how to accomplish this quickly.
The cookies add that familiar Oreo cookie crunch. The filling is creamy and luscious. One slice is laden with calories, but it's delicious.
I hope you give it try.
Oreo Cookie Cake
1 box Duncan Hines chocolate fudge cake, baked according to package directions using 9-inch pans.
4 - 1 ounce squares semi-sweet baking chocolate
1/4 cup butter
8 ounces cream cheese softened
1/2 cup granulated sugar
2 cups whipping cream
20 Oreo Sandwich Cookies (not Double Stuff), divided
Bake the cake using according to package directions in two 9-inch cake pans. When the cake is done, cool in pans for 5 minutes. Invert onto wire racks, remove the pans and cool the layers completely.
When the cake is cool, crush 12 Oreo cookies into coarse crumbs in a plastic bag Zip-lock type bag. Set aside.
In a large bowl, beat the whipping cream into soft peaks. Set aside.
Beat the cream cheese and sugar in a large bowl with an electric mixer on medium speed until well blended. Gently stir in the whipped cream and crushed cookies.
Cut one cake layer in half horizontally. Place one slice on a cake plate and spread with about a quarter of the filling. Place the second slice on top and spread with more filling. Cut the second layer in half and repeat, finishing with a layer of the filling on top of the cake.
Place the chocolate squares and butter in a small microwaveable bowl. Microwave on high for 2 minutes, checking and stirring every 30 seconds, until the butter and chocolate are melted and combined. Do not overheat the chocolate. Cool 5 minutes.
Crush the remaining 8 cookies.
Spoon the glaze over the top of the cake. Sprinkle the top of the cake with the crushed cookies while glaze is soft.
Refrigerate until ready to serve.