Chocolate. Cream cheese. Bacon. Oh my!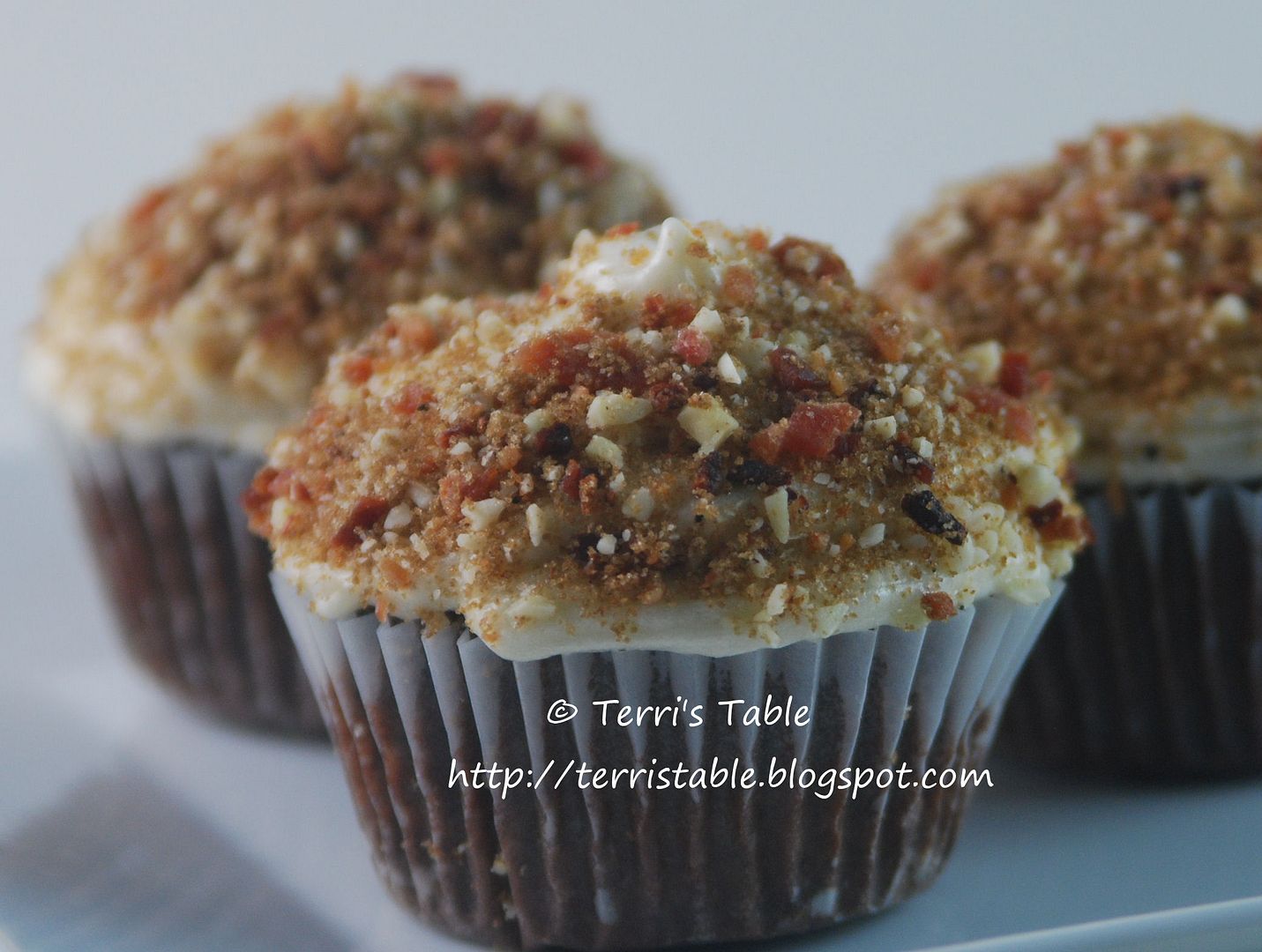 I'm on a quest and I'm bacon obsessed.
Two weeks ago I bought three 3-pound packages of bacon on sale, less than $8 a package for what would normally cost almost $12. Nine pounds of delicious thick-sliced, hickory smoked bacon. Once I got them home, I divided each package into three 1-pound packages, vacuumed sealed them (love my Foodsaver!) and tossed them in the freezer.
Okay, Terri,
I thought.
Now what are you going to do with all of that bacon, besides making bacon and eggs?
Soups? Stews? Cupcakes?
Yes, cupcakes. I saw the recipe over at
Endless Simmer
, pulled one of the those 1-pound packages of bacon out of the freezer and off I went......with just a few little changes.
I didn't have Dutch process cocoa powder for the cupcakes, just a box of Hershey's Cocoa Powder. It would have to do. And I didn't have any sour cream on hand, so I used Greek yogurt instead. It worked fine.
When it came to making the frosting, I was just as ill-prepared. I only had a package of low-fat cream cheese, so that's what I used. And I know when a recipe calls for "maple syrup," it means
real
maple syrup, not the cheapy stuff, but all I had was the cheapy stuff. In hindsight, I wish I would have used a touch of maple extract for a more pronounced maple flavor.
I liked the streusel, but I think next time I make these I'm going to decrease the almonds to 1/4 cup and increase the bacon by 2 slices. I just loves me some bacon.
I tried sprinkling the streusel on top of the frosted cupcake, but it didn't adhere as well as I liked. So, instead, I poured the streusel on to a plate and dipped the frosted cupcake into the streusel. Way better. A good amount of streusel stuck to the frosting, which is what I was looking for.
Although I'd make the same substitutions to the recipe, these were yummy. The cupcakes were tender with a nice chocolatey flavor and the spicy bacon streusel was the perfect contrast to the creamy sweet frosting.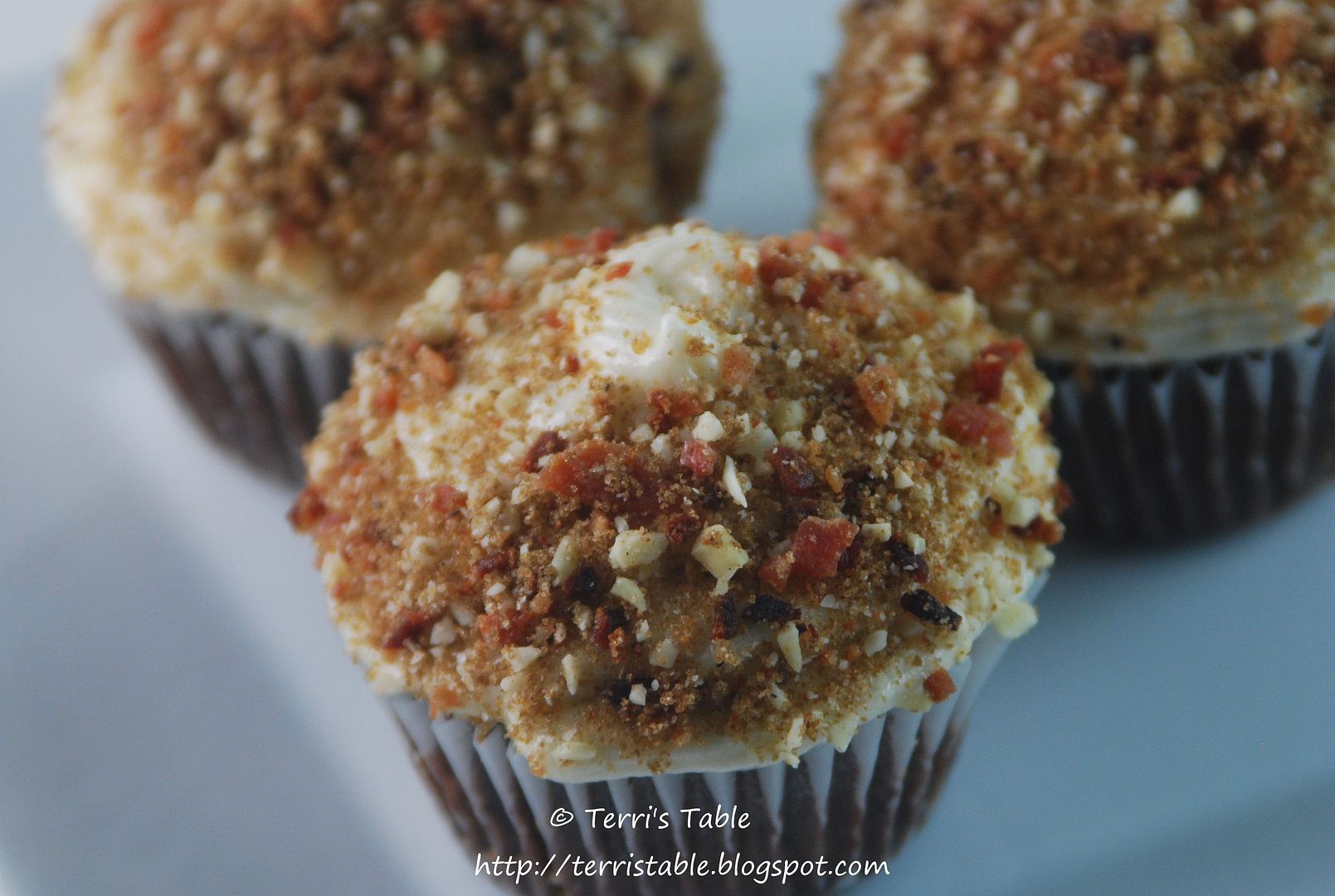 Chocolate Cupcakes with Maple Cream Cheese Frosting & Bacon Streusel
Adapted from Endless Simmer
For the Cupcakes:
1 cup sour cream (I substituted Greek yogurt)
1 teaspoon baking soda
2 cups flour
1/2 cup Dutch process cocoa powder
1 cup unsalted butter (2 sticks)
1 cup granulated sugar
1/2 cup light brown sugar
1 teaspoon salt
2 eggs, plus 2 egg yolks
1 tablespoon vanilla
Preheat oven to 350 degrees.
In a small bowl, mix the sour cream (or Greek yogurt) and baking soda together and set aside.
In another small bowl, sift together the flour and cocoa powder and set aside.
In a medium sized bowl, using an electric mixer, beat the butter, granulated sugar and brown sugar together until light and fluffy, about 4 minutes. Add the salt to the butter/sugar mixture and beat until combined. Add in the 2 whole eggs and beat until well combined. Finally, add in the egg yolks and vanilla and beat until well combined.
Set the mixer aside and use a rubber spatula to begin gently folding in the sour cream mixture and flour mixture, alternating each mixture a third at a time, with each addition folding until just combined. Put paper cupcake liners in your cupcake pans and fill them two-thirds full. Bake in preheated oven for 20 - 25 minutes.
Allow cupcakes to cool completely before frosting.
Makes 18 cupcakes.
For the Frosting:
1 - 8-ounce package cream cheese, softened (I used low-fat)
1/2 cup butter, softened
2 cups powdered sugar
1 teaspoon vanilla
4 tablespoons maple syrup (I would also add 1/4 teaspoon of maple extract or flavoring)
Using an electric mixer on medium low speed, beat the cream cheese and butter until light and fluffy. Gently mix in the powdered sugar. Start on low or you're going to have powdered sugar all over yourself and slowly increase the speed and beat until smooth and creamy. Add in the vanilla and maple syrup (and maple flavoring, if you are using it) and mix until combined.
For the Bacon Streusel
1/8 teaspoon black pepper
1/4 teaspoon cayenne
3 tablespoons dark brown sugar
1/2 cups slivered almonds
8 pieces of thick-sliced bacon (cooked, cooled and broken into pieces)
Put all the streusel ingredients into a food processor fitted with a metal blade and pulse in 2-second bursts three to five times until mixture resembles a very coarse crumble.