Where've I been? Fighting blogger burnout. I've had brain drain.
I've been trying to attend a session on Blogger Burnout on Google+ but every time it's scheduled, I already have something in the time slot. Grrrr. But, this morning I found
the video
of the session I wanted to attend and got some real good pointers. I have little self-examination to do, but I might just have started my creative engine again.
I'm not sure I'm in full go mode, but I'm trying. We'll see how it goes.
So, on to the Chili Verde. Has the weather turned cold where you are? Yeah, here, too.
Cold is not my favorite time of year. The older I get, the more I get like Joe, our mostly-Maltese. When the weather turns cool, you are more than likely to find him curled up under a quilt. Me, too.
Autumn is the time of year for soups, stews, chowders and chili. I love a bowl of something hot and scrumptious with a crusty baguette, cornbread muffin, biscuit or warm tortilla. I like all kinds of anything served up piping hot in a bowl, but rich and hearty is my first choice, whether it's fish, beef, pork, lamb, thick, creamy or brothy. I like them all and luckily I have created quite a collection. I just recently add this one to my repertoire.
This recipe is for the day when you have a few hours to let it cook on the stove top in a big pot and enjoy the wonderful aroma from the kitchen while you clean the house, return emails, or write your own blog post.
Verde translated means "green". The sauce consists of green ingredients: tomatillos, chilies and cilantro. And I like that this recipe uses mostly fresh ingredients, except for one small can of diced green chilies. No cans of beans. No enchilada sauce. No canned tomatoes. And the flavor sings because of it.
Chili Verde
2 pounds tomatillos, husks removed, rinsed well and cut in half
2 onions, quartered
4 cloves garlic, finely minced
2 Poblano peppers, roasted, peeled, seeded and diced
1 bunch cilantro, leaves picked and roughly chopped
4 lbs (approximately) pork shoulder (pork butt), excess fat trimmed and cut into 2-inch cubes
1-1/2 cups frozen (thawed) or fresh corn
1 - 4-ounce can diced green chilies
4 cups chicken stock
2 teaspoons dried oregano
1 teaspoon cumin
1/2 teaspoon ancho chili powder
1/4 teaspoon ground cinnamon
1/8 teaspoon ground cloves
salt and pepper
olive oil
Preheat oven to 425˚
Put the halved tomatillos and quartered onions into a large bowl. Drizzle with a little olive oil, sprinkle generously with salt and pepper and stir to coat evenly.
Spread the mixture on a large baking sheet and roast in the oven until the tomatillos and onions are slightly browned, about 1 hour.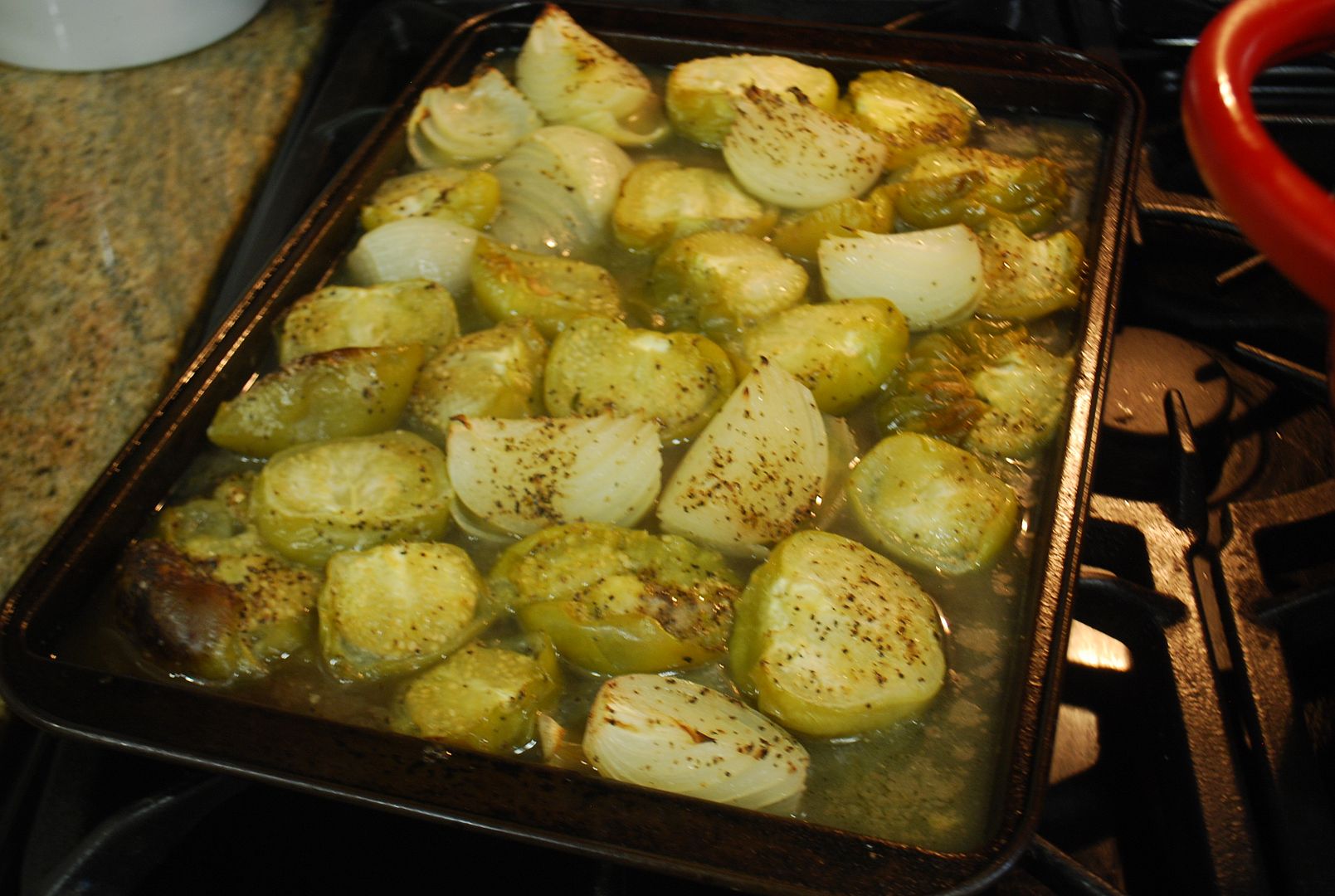 Remove the tomatillos and onions from the oven and set aside to cool slightly. Do not pour off the liquid. You will add that to the pot later.
While the tomatillos are cooling, season the pork cubes with salt and pepper. Heat a little olive oil in a large pot on medium high heat and working in batches of a few at a time brown the pork cubes on all sides. Remove each batch from the pot and continue until all the pork cubes are browned.
Add the garlic to the pot and cook on medium heat until it is fragrant. Do not allow it to brown or it will turn bitter. Remove the pan from the heat.
In a food processor, again working in batches, add a few of the roasted tomatillos and onions, some of the cilantro and the roasted Poblanos and pulse until pureed. Pour the mixture into the pot with the garlic. Continue until all of the tomatillos, onions, cilantro and Poblano peppers are pureed and added to the pot.
Add the browned pork cubes back into the pot with the tomatillo sauce. Now, add the reserved liquid from the roasted tomatillos, the chicken stock, the can of diced green chilies, oregano, cumin, ancho chili powder, cinnamon and cloves and mix well. Season very lightly with salt and pepper. You can correct the seasoning later.
Bring the mixture to a boil, then reduce the heat to low and gently simmer the chili for about 2 hours, stirring occasionally, then add the corn. Return the chili to a simmer and continue cooking until the pork is fork tender, approximately one more hour, for a total of 3 hours. Correct the seasoning if necessary, adding a little salt and pepper.
Serve hot with cornbread or warm tortillas.