Yesterday was our Thanksgiving. Sort of.

Thanksgiving day we joined my father-in-law for a turkey-and-all-the-trimmings brunch in the dining room at the retirement community where he lives.

The brunch was served buffet style on long tables lined with commercial chafing dishes. Sliced turkey; sliced ham pieces (floating in some sort of liquid); stuffing (cornbread type, I think, though it was hard to discern); instant mashed potatoes; gravy (also from a can); green beans with limp, soggy bacon (swimming in the brine in which they were canned); mashed sweet potato casserole; cranberry sauce (again, from a can) and rolls. This kind of meal is what we have come to expect from the head 'chef' (I use that term quite loosely).

But, we love turkey dinner leftovers, so we decided to roast our own turkey on Saturday.

We prepared our dinner for just the two of because we wanted to make just a few items that we love and experiment with a new, highly seasoned stuffing that wouldn't necessarily appeal to our usual dinner guests.

I found the stuffing recipe, Ciabatta Stuffing with Chorizo, Sweet Potatoes and Mushrooms, at Food52.com and I'm glad I did. It was amazing. Instead of using cured chorizo, Tom used a half of a 10-ounce tube of Mexican chorizo. The result was a little spicier than what the cured chorizo would have been, but it perfectly complimented the sweetness of the potatoes and the earthiness of the mushrooms (combination of shitaki and crimini).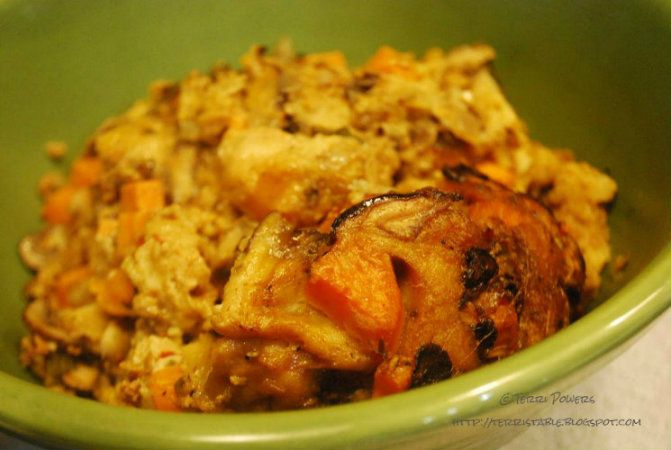 Rather than bake the stuffing in a pan, Tom stuffed the bird with it and then with what stuffing wouldn't fit in the cavity of the bird he cooked a small bowlful in a frying pan and ate it for breakfast topped with a fried egg over easy.
Tom made the mashed potatoes. I made the gravy from the stock that I had simmering on the stove all day.
One of our favorite holiday side dishes is
Marie's Parmesan Roasted Onions
. Onions roasted in a wine and cream sauce until they're just barely soft and oh so sweet.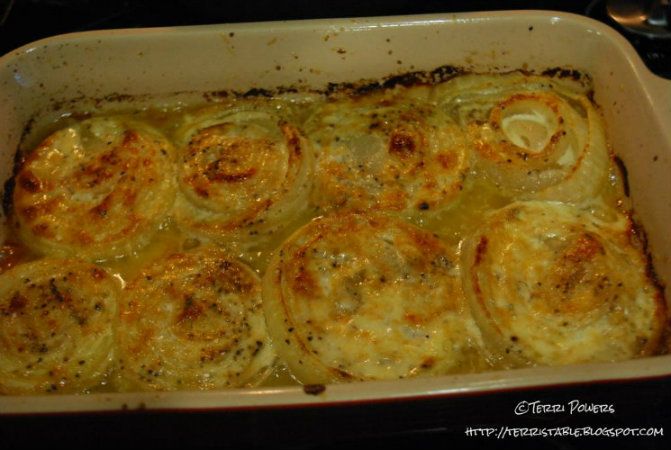 Then, of course, we needed cranberry sauce.
Several years ago, I saw filmmaker, David Hahn, on a cooking show (I can't remember which one) talking about a new product he developed called Cranberry Fool. A cranberry sauce of sorts: whole fresh cranberries enhanced with dried cherries, currants and raisins with a splash of vanilla. I decided to make my own
Cranberry Fool Sauce
. It's much better than canned cranberry sauce and what's so awesome is that you can add some chopped candied jalapeños to the sauce and spoon it over cream cheese or bake it with brie for a special appetizer.
The last side dish, which didn't turn out so well, was the Roasted Brussel Sprouts with Bacon, Onions and Balsamic. I just roasted them too long. We ate them anyway.
It was a fairly simple Thanksgiving dinner...
We have lots of leftovers, most of which are vacuum sealed and stored in the freezer. I kept out some turkey to make soup this afternoon.
I hope your Thanksgiving was filled with the warmth of family and friends.
Next stop.... Christmas.