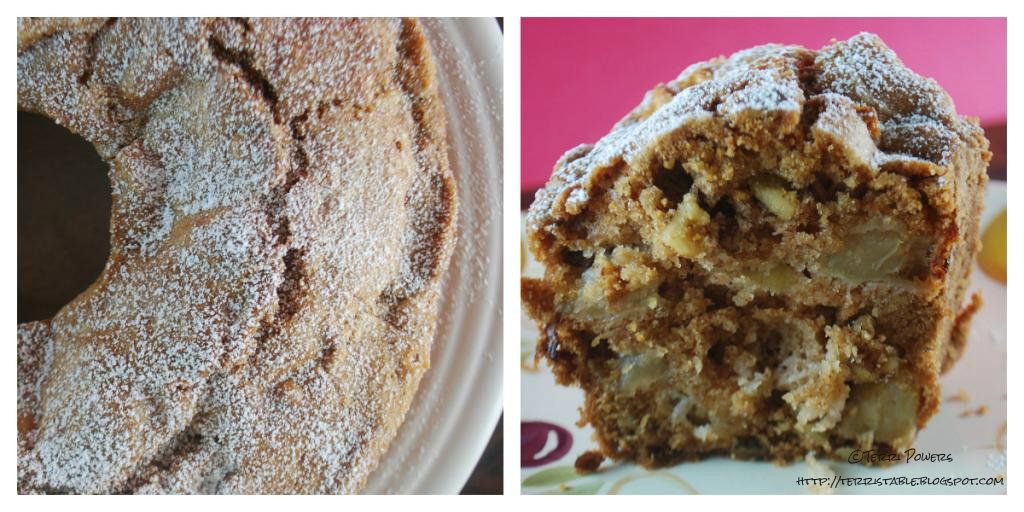 As I've said many times before, I'm not really a dessert person. Given a choice of types of food, my preference is always savory. I do, however, like making desserts.
I love the
ooooh's
and
awwww's
and
Oh My Gawd's
when I present a luscious looking dessert like the stunning
Oreo Cookie Cake
or the decadent
Chocolate Chip Cookie Pie
or the inviting
Strawberry Cake
. I know. I admit it's a little egotistical.
This cake is not like that. It's not fancy. It's not decadent. In fact, it's plain, simple and while satisfying to a palate yearning for something sweet, it is less so than other desserts I've made. That's why I loved it.
You could definitely sweeten it up some with a sugary glaze or salted caramel drizzle if you so desire. I didn't. I covered it with a light dusting of powdered sugar and thought it was perfect.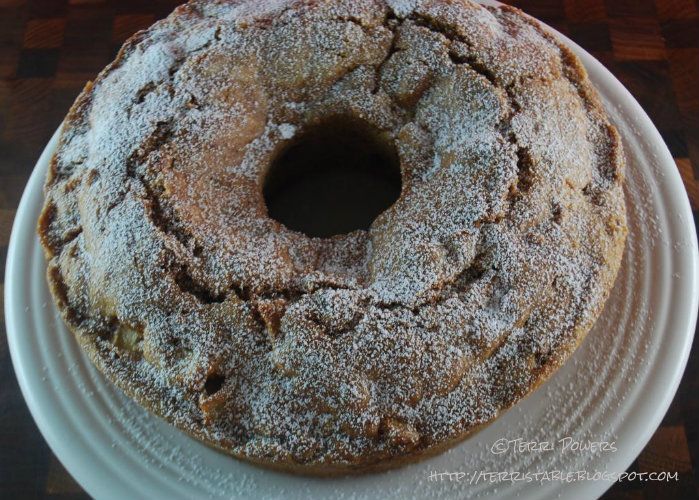 I found this cake at Food52.com, one of my favorite food sites. I followed the recipe exactly, except for one minor detail. I left out the raisins. Why, you ask? I live with a Raisin Squirrel, who is also a Nut Squirrel, a Chip Squirrel, a Pretzel Squirrel...are you getting the picture? It's my husband, Tom. He's the consummate nosher, nibbler, snacker and raisins are one of his favorite little morsels. When he walks through the pantry to the garage, or from the garage through the pantry to the den, he grabs a handful of whatever morsels are stored there, pops them into his cheek and nibbles away at them, one by one. He also is not immune to grabbing a bowl and creating a custom morsel mix for himself to nosh on while he watches a movie.
So, yes, I adapted this recipe slightly. It would probably be a little sweeter with the addition of the raisins, but I didn't miss them. It was still moist and tender and quite luscious.
Fresh Apple Cake
Adapted slightly from Food52.com
Butter for greasing pan (I use my own Easy Release Pan Coating)
3 cups flour, plus more for dusting pan (see above)
1 1/2 cup vegetable oil
2 cups sugar
3 eggs
1 teaspoon salt
1 teaspoon cinnamon
1 teaspoon baking soda
1 teaspoon vanilla
3 cups peeled, cored, and thickly sliced tart apples like Honeycrisp or Granny Smith (I used a large dice)
1 cup chopped walnuts
1 cup raisins (I omitted)
Vanilla ice cream or whipped cream (optional)
Preheat oven to 350°F.
Butter and flour a 9-inch tube pan (or use a pastry brush to apply the Easy Pan Release.
Beat the oil and sugar together for 5 minutes in a stand mixer (fitted with a paddle attachment). While the mixer is working, assemble the remaining ingredients. After about 5 minutes, add the eggs and beat until the mixture is creamy.
Sift together 3 cups of flour, the salt, cinnamon and baking soda. Stir into the batter. Add the vanilla, apples, walnuts and raisins and stir until combined. The batter will be very thick.
The batter will be thick, so you'll need to drop it into the prepared pan by the spoonful. Bake for 1 hour and 15 minutes, or until a toothpick inserted in the center comes out clean. Remove from the oven to a rack and cool in the pan before lifting out.
Serve at room temperature with vanilla ice cream or whipped cream, if desired.