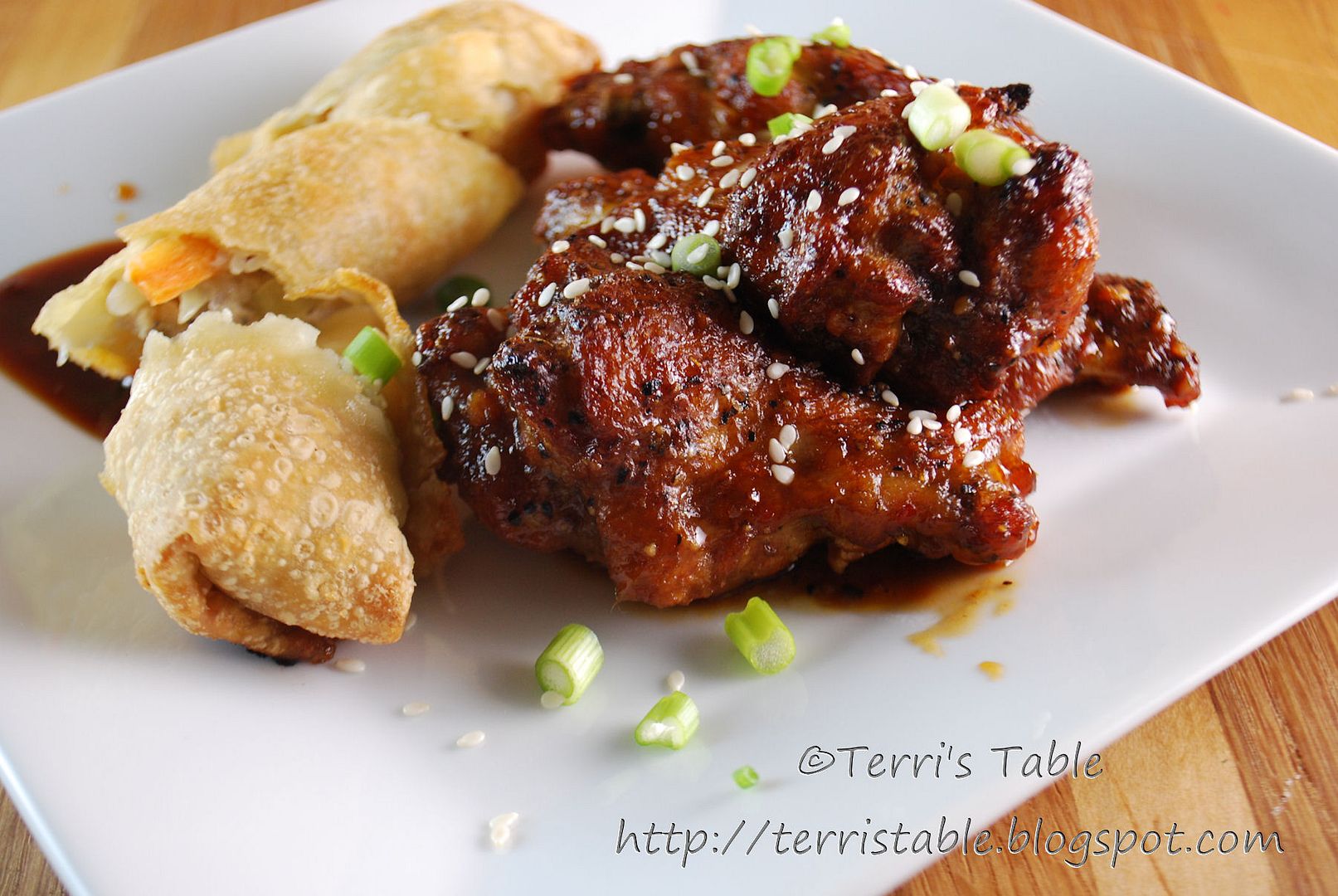 I made these on a lazy Saturday evening. It was one of those days when I forgot to take meat out of the freezer to thaw in time to make dinner. Dang! Plus I didn't really feel like cooking. But all the suggestions Tom made for take-out or delivery met with a blank, unenthusiastic stare and a barely audible "meh." Pizza? Meh. Chinese? Meh. Burgers? Meh.
I went out to the extra freezer we have in the garage to look for something quick and easy. We keep it stocked with a few frozen snacks for just these occasions. Taquitos? Meh. Egg Rolls? Meh. Tequila Lime Wings? Meh. I was sort of feeling like something Asian. Egg Rolls, maybe, but what else? Should I whip up some noodles and veggies, too? What to do, what to do. So, I just went back in to the kitchen, poured myself a glass of wine, took a sip and thought for a minute. Hmmmm.
Those frozen Tequila Lime Wings are pretty nondescript.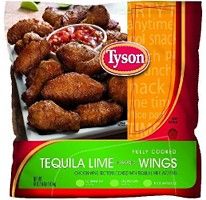 They're preseasoned, precooked, then frozen and ready to just pop in the oven for about 20 or 30 minutes. The flavor is a little on the peppery side with barely a hint of lime and without any discernible tequila flavor. They really require a flavorful dipping sauce to finish them off. But faux Mexican didn't sound appetizing. So I decided to transform them into Asian Chicken Wings.
I put together an Asian inspired glaze with hoisin, soy and Thai sweet chili sauces, ketchup, sugar, ginger, garlic and sherry. I doused the frozen chicken wings in the mixture and baked them for about 10 minutes longer than instructed. It worked! The glaze was sticky and on the sweet side. We couldn't tell the wings started out as Tequila Lime anything.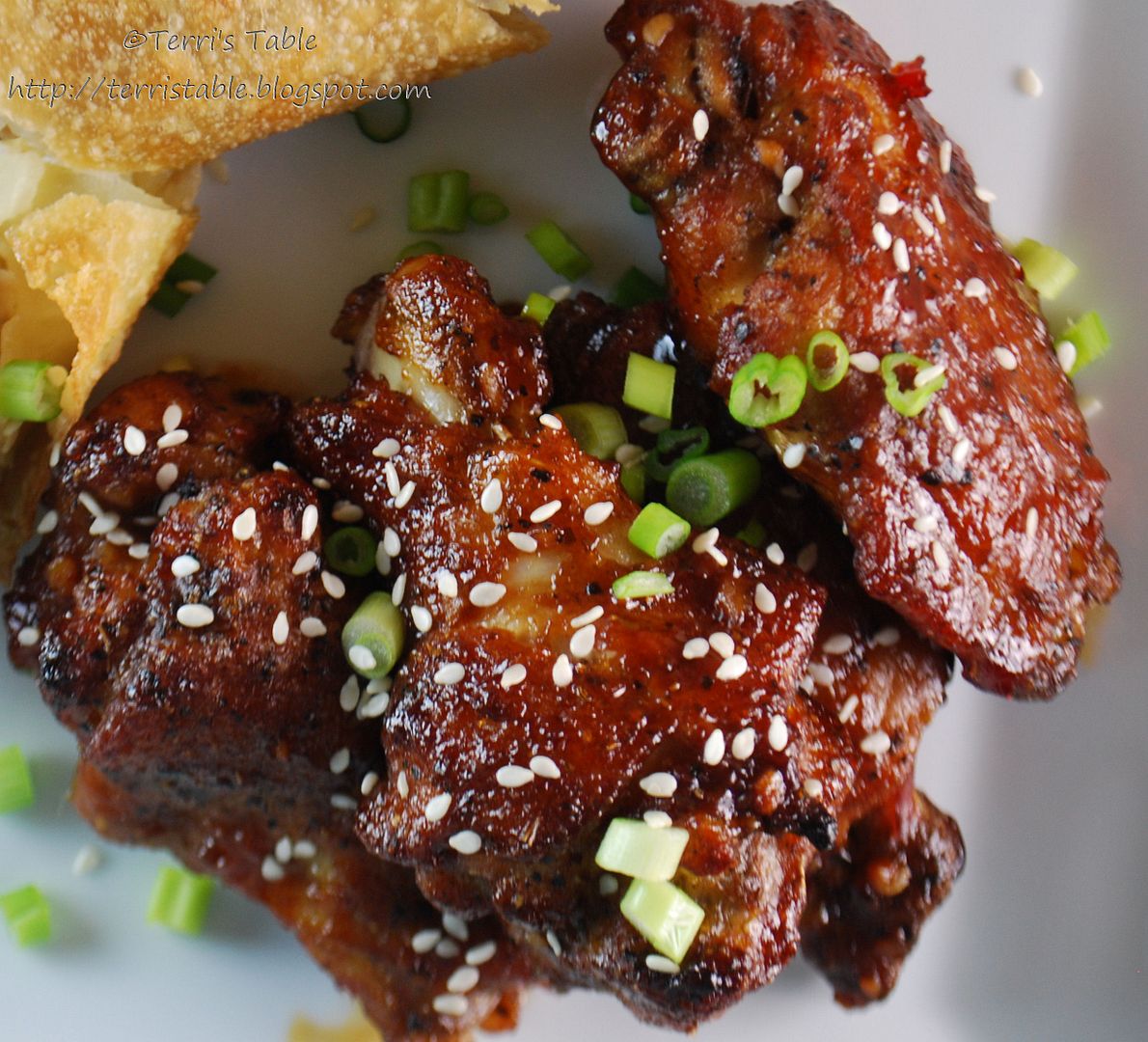 I didn't use all the glaze. I put a cup of it in a small pan and kept it warm while the wings baked. The first time we made these, I took the wings out of the oven and tossed them in a large bowl with the remaining sauce before serving. When we made them last night, I served the remaining sauce on the side for dipping. Either way, they are pretty darn good and incredibly easy. No marinating. No frying. Just douse, mix and bake. With an egg roll on the side, which baked in the oven with the wings on a separate baking sheet, it was plenty for a meal or awesome as an appetizer.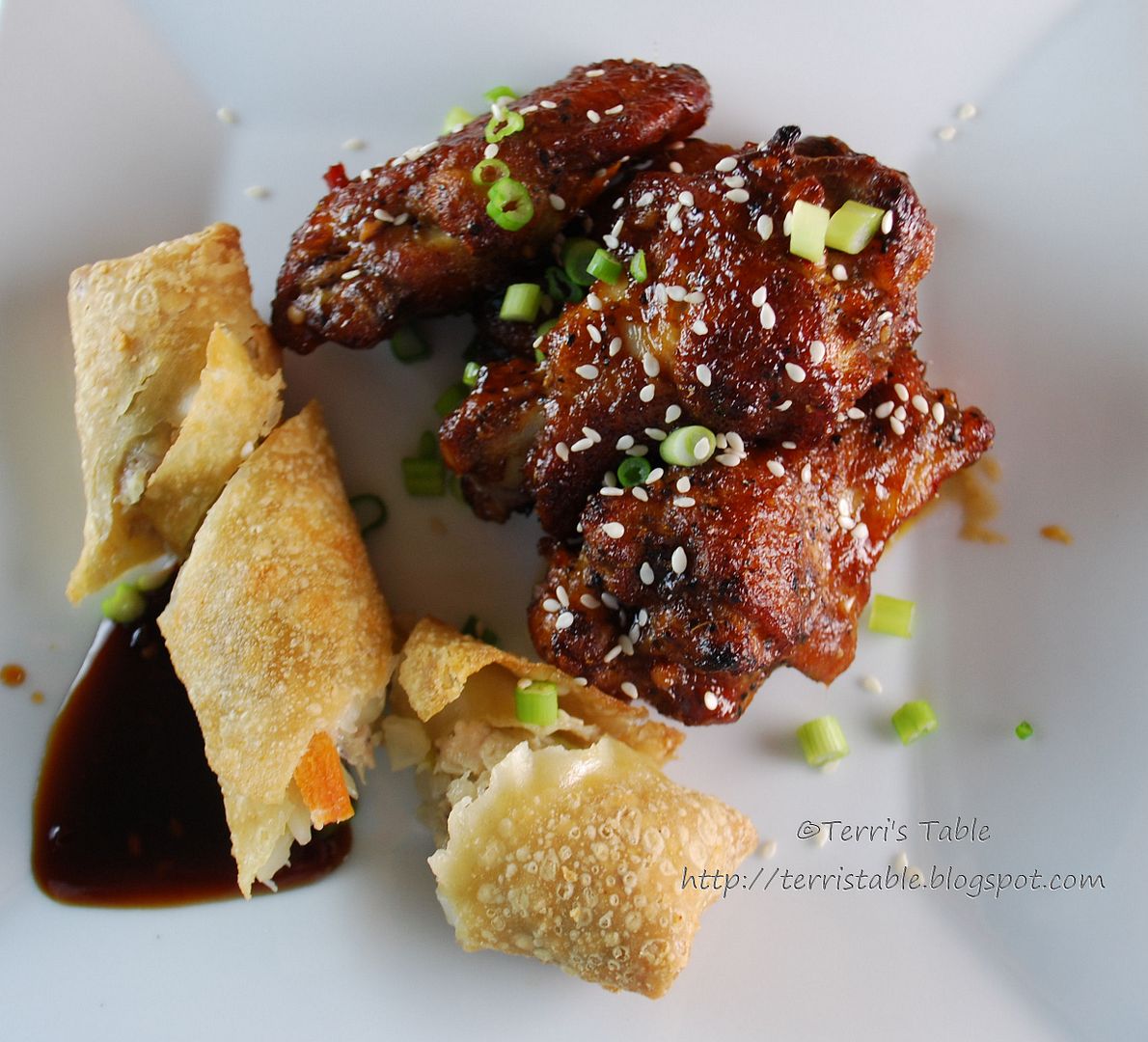 Asian Chicken Wings
25 to 30 Frozen, precooked Tyson Tequila Lime Wings (we buy the 64-ounce bag and use about half of it, but Tyson makes a 28-ounce bag, too)
1/2 cup hoisin sauce
1/2 cup low-sodium soy sauce
1/4 cup ketchup
1/2 cup Thai sweet chili sauce
1/4 cup dry sherry
1/2 cup brown sugar
1 rounded tablespoon fresh grated ginger
1 clove garlic, finely minced
Sesame seeds and 2 or 3 green onions thinly sliced for garnish
Preheat oven to 425 degrees. Line a large rimmed baking sheet with heavy duty aluminum foil and spray very generously with non-stick cooking spray.
In a medium sized bowl, combine the hoisin sauce, soy sauce, ketchup, Thai sweet chili sauce, sherry, brown sugar, ginger and garlic and mix well. Remove about a cup of the sauce and set aside.
Place the frozen wings in a large bowl, pour the remaining sauce over the wings and mix well until all of the wings are evenly coated. Spread the wings on the baking sheet in a single layer. Place the wings in the preheated oven and bake 25 to 30 minutes until they appear to be nicely glazed.
While the wings are baking, transfer the reserved sauce to a small saucepan and keep warm over low heat until the wings are done.
Transfer the cooked wings to a serving platter and sprinkle lightly with sesame seeds and green onions and serve the remaining sauce on the side.