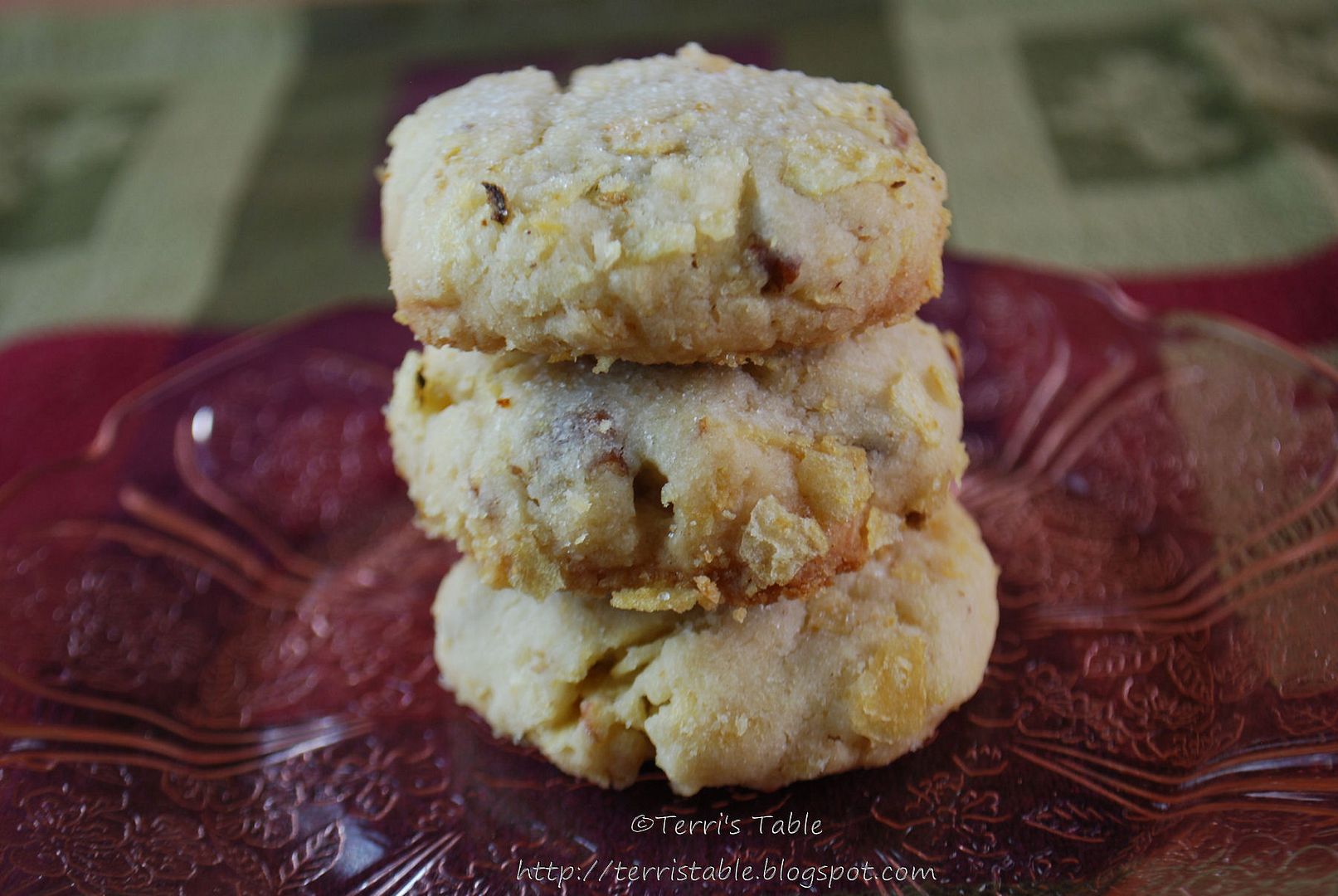 Several weeks ago, during a conversation with friends, someone mentioned how much she like Potato Chip Cookies. I think I've been under a rock for a while because I'd never heard of them. Intrigued by the flavor combination, I asked my friend for the recipe and when she gave it to me early last week I was anxious to make a batch. I posted my planned baking experiment on Facebook and my daughter-in-law responded that she made some Potato Chip Cookies the week before and they were delicious. I was encouraged.
However, the ratio and the ingredients in the recipe I was given seemed a little odd; equal parts sugar and flour and a cup of oil. I don't think I'd ever made a cookie with oil. Butter or margarine, yes, but not oil and I thought it might make the dough a little greasy. But I persevered.
Once mixed together, the dough was something between a cookie dough and a cake batter. I let the dough sit as instructed in the recipe, but it didn't help. In addition, the dough
WAS
greasy and it started to spread a little even as I dropped the cookies on the baking sheet and when they were done and I took them out of the oven, they had spread out so much that it was almost one solid mass. I had to cut most of them apart from each other with the spatula as I lifted them from the baking sheet to a wire rack covered with paper towels. And when I lifted them off the rack to a plate after they had cooled, the paper towel was soaked with oil. Ick. This is what they looked like when they were done...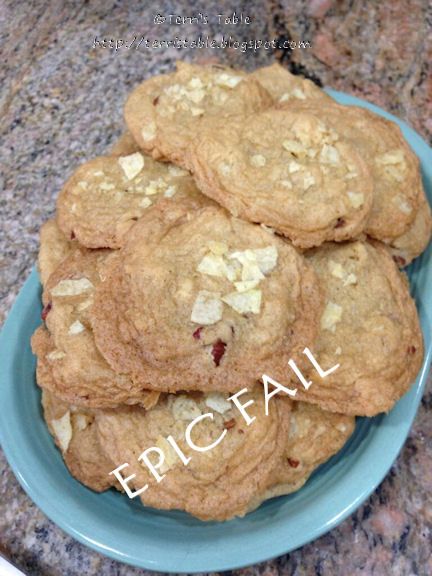 The cookies tasted greasy, too, and they had an off flavor, sort of like sweet, salty, oily flour. Epic fail.
I hit the web looking for photos of Potato Chip Cookies and none of them looked like mine. None of the photos looked like the cookies I just pulled from the oven, and none of the recipes called for oil instead of butter or margarine. Besides, my daughter-in-law has a really good palate and she wouldn't like a cookie that tasted as bad as mine. So, I pulled about a half a dozen recipes off the web and combined the best parts of them and finally produced a delicious cookie. And they even received rave reviews from the girls next door, ages 8 to 15. This is what they raved about...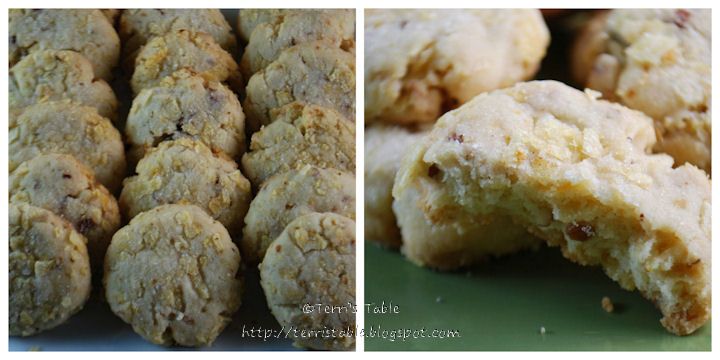 Sweet, salty, nutty, buttery, tender, delicious. Exactly what I initially thought they'd taste like.
I used two sticks of butter and only 1/2 cup of sugar and beat them together until they were light and fluffy, then mixed in some vanilla, just a touch of salt, some chopped pecans, potato chips and flour and mixed everything together until it was combined. I used a small ice cream scoop that holds about a tablespoon of cookie dough, rolled each scoop into a ball and rolled each ball into more crushed potato chips before I put them on my baking sheet
(I use a SilPat, but you can use a baking sheet lightly prepared with cooking spray)
about 1½-inches apart. I used a flat metal spatula to slightly flatten the balls of cookie dough, then sprinkled them lightly with sugar
(but next time I will use turbinado sugar instead plain granulated sugar because the granules are bigger and hold up really well during baking)
and they were ready to go into a 350° oven.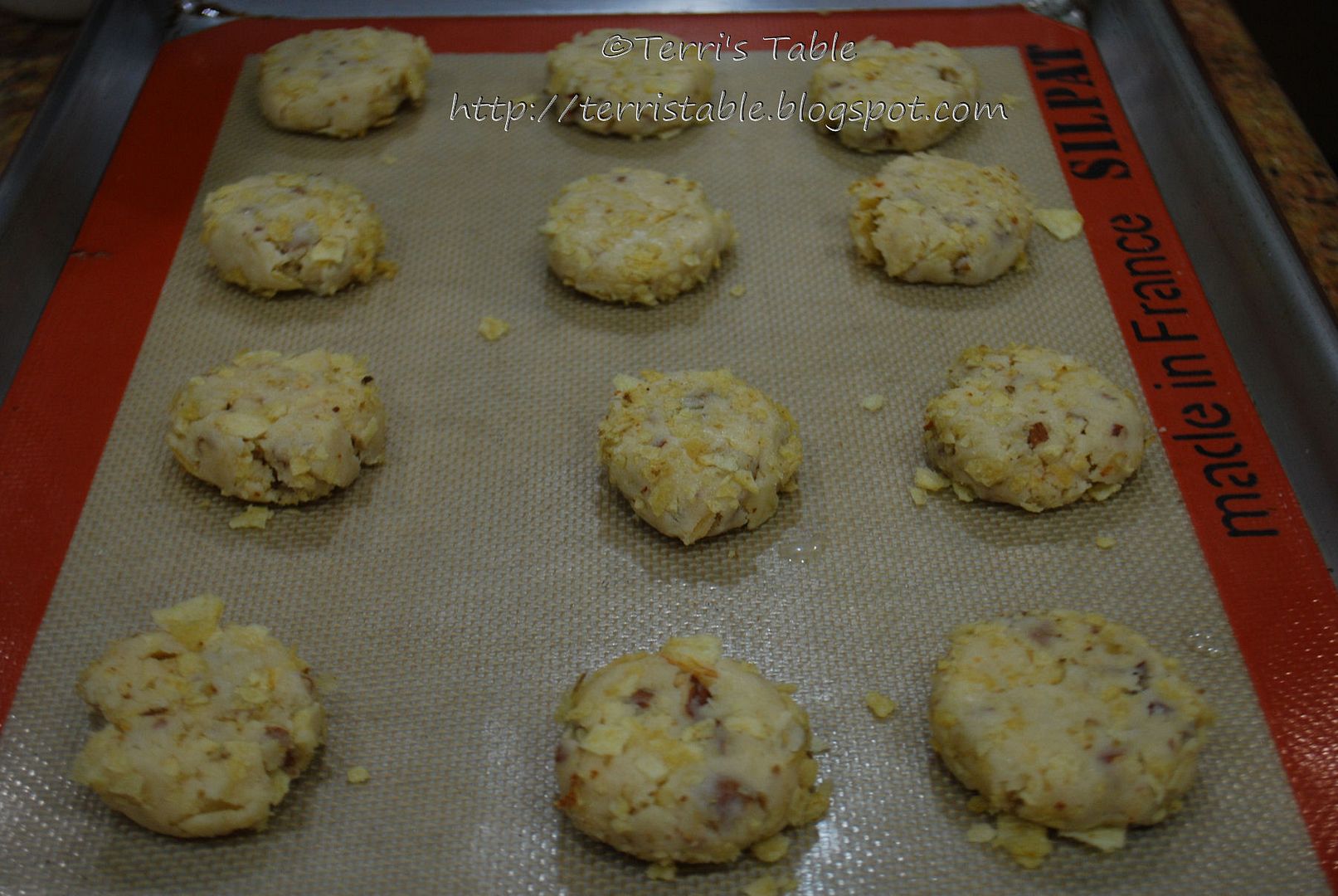 Most recipes called for baking times of 15 to 18 minutes. My cookies took 17 minutes. They were perfect, just a little golden around the edges.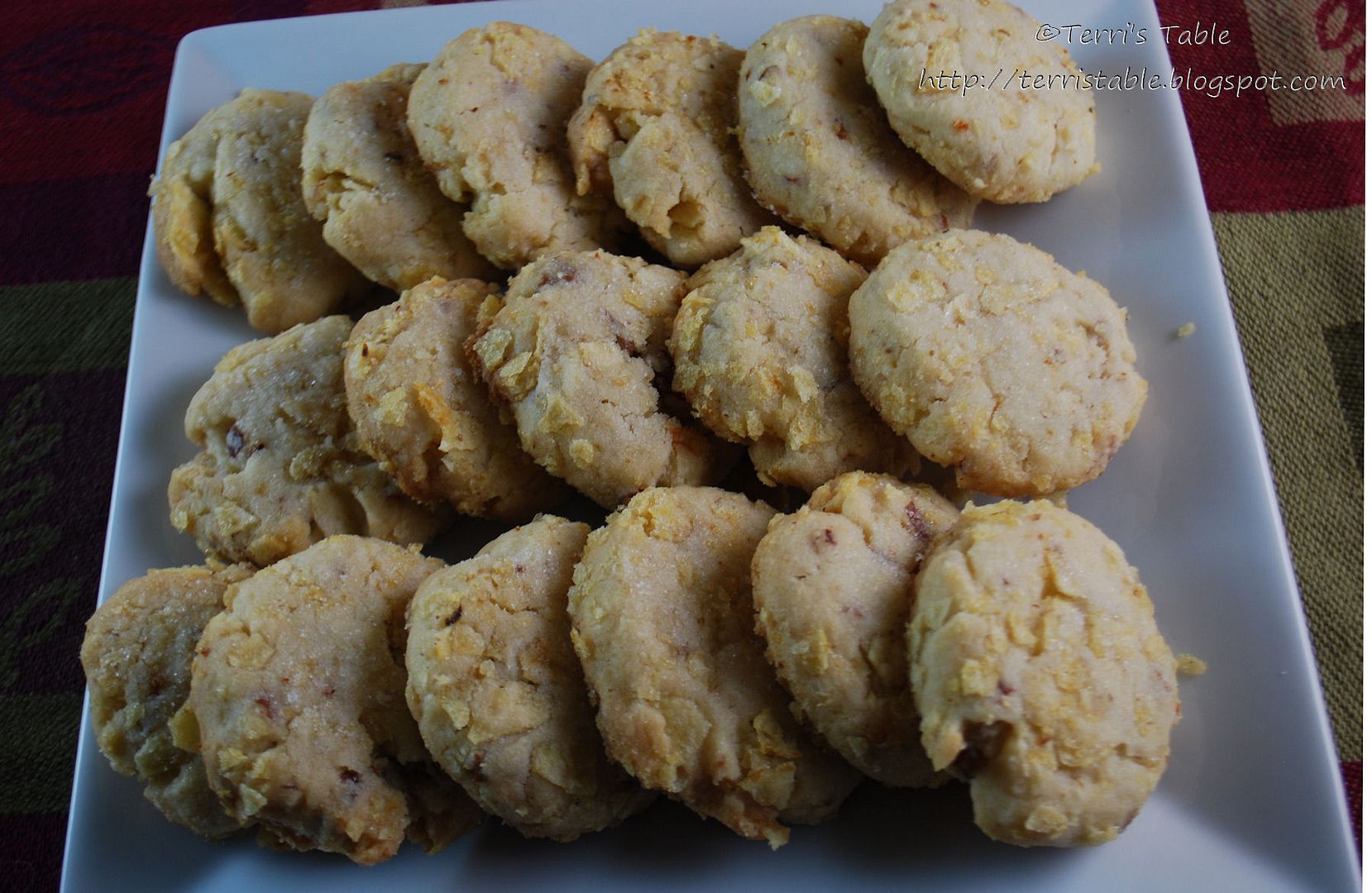 I have shredded the nasty, oily recipe and will use this one from now on.
Potato Chip Cookies
1 cup (2 sticks) butter at room temperature (if you use salted butter, omit the 1/4 teaspoon of kosher salt)
½ cup, plus 2 tablespoons sugar (the 2 tablespoons is for sprinkling on the cookies before baking)
1 teaspoon vanilla extract
¼ teaspoon kosher salt
½ cup chopped pecans
2 cups finely crushed potato chips (1½ cups for the cookie dough and ½ cup for rolling)
2 cups all-purpose flour
Preheat oven to 350°. Prepare two baking sheets by lining with a SilPat, parchment paper or spraying lightly with cooking spray.
Crush the potato chips in a plastic bag using a rolling pin until they are fairly fine crumbs to measure 2 cups. Reserve ½ cup on a small plate and set aside.
In a large bowl, beat the butter and ½ cup sugar until it's light and fluffy. Beat in the vanilla and kosher salt (if using unsalted butter). Mix in the pecans, 1½ cups crushed potato chips and flour until just combined.
Put the 2 tablespoons of sugar in a small dish and set aside with the reserved crushed potato chips.
Using a tablespoon or small 1½-inch ice cream scoop to measure out the dough, roll each spoonful into a ball then roll in the crushed potato chips. Place onto your prepared baking sheet about 1½-inches apart and flatten slightly with a flat metal spatula. Using your fingers, sprinkle the tops of the cookies lightly with sugar.
Bake about 15 to 18 minutes until the edges are lightly golden brown. When done, transfer to a wire rack to cool. Makes 26 to 30 cookies, depending on size.