Our food plans for the weekend were pretty ambitious.

Last week, I found two small packages of Maytag Blue Cheese at Kroger, so Friday night Tom made a delicious Grilled Fillet of Beef with Blue Cheese Glacage that he saw Chef Emeril Lagasse prepare several years ago on his program, Emeril Live!

I don't know why Chef Emeril would call it a "glacage" since it really isn't a glaze in the traditional sense of the word. It's more of a loose, savory custard. But, by any name, coming hot out of the oven, it smells absolutely wonderful.




Tom has prepared this dish many, many times and if you love blue cheese, you will love this. He almost always serves it over the Bacon and Sour Cream Mashed Potatoes and garnishes it with crumbled bacon and sliced green onions instead of the worcestershire sauce called for in the recipe.




It was the perfect meal to start a weekend.

Saturday we were up early and out the door by 7:15 am, heading for the North Little Rock Farmers Market for some nice eggplant and tomatoes. We scored more than that. We purchased two baskets of the season's first figs.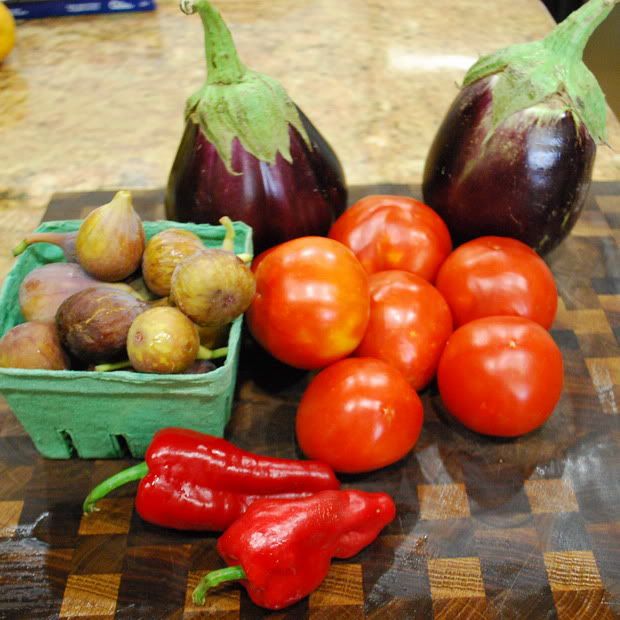 Those beautiful tomatoes would become an ingredient for an Insalata Caprese and the figs would be transformed into a Fig Galette for Sunday's dinner.

When we got home from the Farmers Market, we made a large batch of ricotta cheese to use for stuffing portobello mushrooms for dinner that night.

We mixed some of the fresh ricotta cheese with cooked sweet Italian turkey sausage, one beaten egg, some grated mozzarella and parmesan cheeses, some chopped fresh basil and a little Italian seasoned bread crumbs, then filled the large portobellos with the stuffing and cooked them on the grill outside. So creamy and luscious.




We also made large batch of mozzarella cheese for the Insalata Caprese to serve with our Sunday dinner, Brick Barbecued Chicken.




And, finally, I made the Fig Galette, also for Sunday's dinner.

A couple of weeks ago, I made my very first attempt at preparing a galette, sharing the painful experience here, but I vowed to try it again.

For the Fig Galette, I decided to avoid another crust fiasco and just use a prepared pie crust. It was one of the smartest decisions I've ever made.

First, I covered the bottom of a large baking pan (I used a round pizza pan) with parchment paper and laid one pre-made pie crust in the middle of the pan. I gently stretched the crust out a little with my fingers to make a little bigger circle. Then I sprinkled the crust with a couple of tablespoons of plain sugar. So far, so good.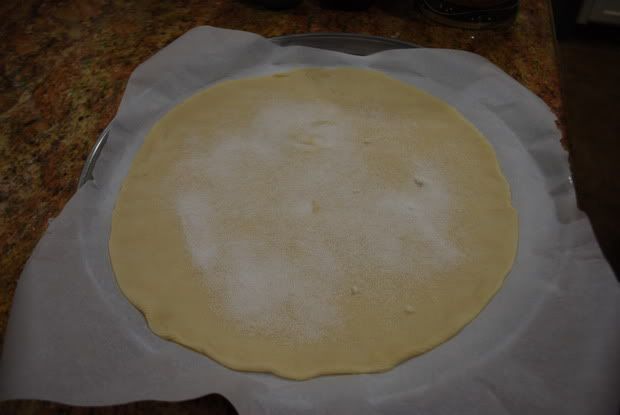 I trimmed the stems from the figs and cut them in quarters lengthwise. I laid the fig quarters in circles, overlapping each other slightly, until I had filled the crust but left a 1-1/2 to 2 inch border on the outer edge. For the center, Tom took one fig, cut off the stem and cut 6 slits lengthwise, making sure not to cut all the way through. He sat the fig upright in the center and gently opened it like a flower. He's so clever...




I sprinkled the figs with another 2 - 3 tablespoons of granulated sugar, then gently lifted the border edge of the crust over the figs (the parchment paper really helped control this), slightly pinching the crust together every so often so the border was even.

I brushed the edge of the crust with some beaten egg white and sprinkled the edge with turbinato sugar (just because I like the way turbinato sugar keeps it's shape during baking).




I then baked the galette in a 375° oven for about 45 minutes, or until the figs were bubbly and the crust was a golden brown.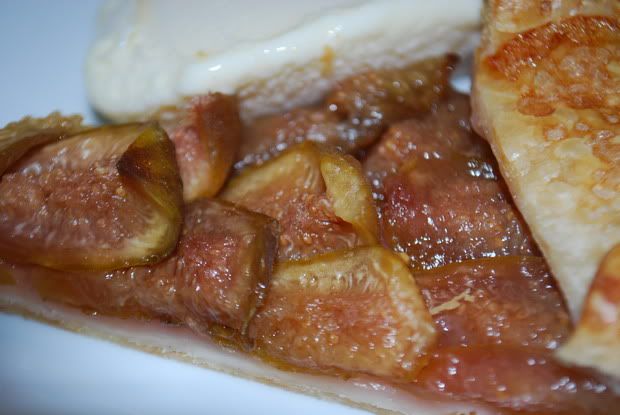 It turned out perfect!

Now that this galette was a success, I suppose I'll have to make another, but next time I'll have to make my own pastry crust.