I believe that a good sauce can transform a plain, uninteresting piece of chicken, pork, beef or fish into a sumptuous dish.

In the spirit of full disclosure, I must say that my view would most likely be poo-pooed and disputed by most nutritionists and some health care professionals who admonish us to steer clear of butter or cream and all those other luxurious ingredients.

You know those nutritionists and health care professionals are right. I know they are right. But man and woman cannot live by broiled or poached protein alone. At least this woman can't.

I understand the perils of too much cholesterol. I rarely use butter. Instead I use Smart Balance. I still ingest the dreaded fat, but no cholesterol. And, I've used olive oil for years. I cook and eat mostly boneless, skinless chicken, very lean pork and very little beef. I haven't had a fried pork chop or piece of chicken in months and my freezer is full of all kinds of fish. I try really hard to be reasonable about what I eat, but sauces are my downfall.

I just love a good sauce. I love the texture on my tongue, the fragrance, the taste...even the sight of a good sauce. Among the many blogs I visit, my favorite website is Food Porn Daily, not really pornography unless food is your idea of porn. Every single day Food Porn Daily posts a photograph of some sort of food, usually in a sauce or broth, up close and personal, in full color, and every single day I click the link to view, close up, a beautiful dish of something-or-other, begin salivating and thinking about how I can recreate that sauce that I can almost taste.

I have a vast array of recipes for all kinds of sauces, cold and hot, but I'm always looking for something new and something different. Several years ago, I came across a recipe in a small paperback French cookbook for Chicken Dijon: sauteed chicken in a sauce made of sour cream and dijon mustard. The sauce is simple and quite delicious, but when I came across Gareth Mark's variation, I just knew it would be equally as good so I gave it a try. Mmmmm. Simple, fragrant, delicious, luxurious.

Gareth bathed a sauteed chicken breast with this sauce. I used pork. I flattened then sauteed two slices of pork loin and dressed it with this wonderful sauce, but this recipe makes more than enough for 4 slices of whatever meat you choose. I served it over a whole grain and rice blend with a side of peas. I used this brand of whole grain mustard.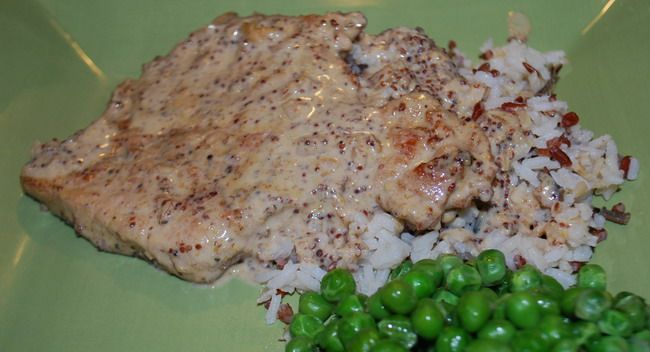 Whole Grain Mustard Sauce
adapted from Gareth Mark's Recipe @ Stumptown Savoury
1 tablespoon olive oil
4 thin chicken breasts or pork loin slices
Kosher salt
Fresh ground pepper
1 shallot, minced (I didn't have a shallot, so I used about 1/4 of a cup of finely minced onion)
1/2 cup dry white wine
3/4 cup heavy cream
3 tablespoon whole grain, coarse ground Dijon style mustard
Heat a saute pan over medium high heat. Season the chicken or pork slices with salt and pepper. Add the olive oil to the hot pan, heat the olive oil and and saute the slices, 4 - 5 minutes per side for thin cut. Remove cooked meat to a plate and keep warm.
Add another tablespoon of olive oil to the pan and saute the shallots for about a minute. Add the wine to the pan to deglaze, stirring up all the browned bits from the bottom of the pan. Allow the wine to boil and reduce to about two tablespoons of liquid. Add the cream, stirring continuously and bring to a boil and reduce the liquid until slightly thickened and it coats the back of a metal spoon, about 2 minute.
Add the mustard, stir to combine and add salt and pepper to taste. Add the chicken or pork slices to the sauce and cook gently for about a minute to reheat. Remove the slices of meat to a serving dish and serve with the sauce.