In my last post I said I would post the recipe for the candied jalapenos that I used in the Vietnamese Slaw and on the Pork Banh Mi Sandwich. We love these at our house. We use them for everything, from salsa to topping sandwiches. I took a jar to my son's house and they were a hit there as well. I've known folks who just chop up a few, mix them with cream cheese and serve it on crackers.

The recipe is the lazy person's method and has only three ingredients: a jar of pickled jalapenos, sugar and a touch of alum (which is optional). No picking jalapenos from the garden. No slicing. That's all done for you.

I buy the pickled jalapenos in the 64-oz. jar, so that's the amount I will use for the recipe. If you decided to use a smaller jar, just reduce the amount of sugar and alum by the same ratio.

You should keep the Candied Jalapenos in the refrigerator. Fair warning: they won't last long!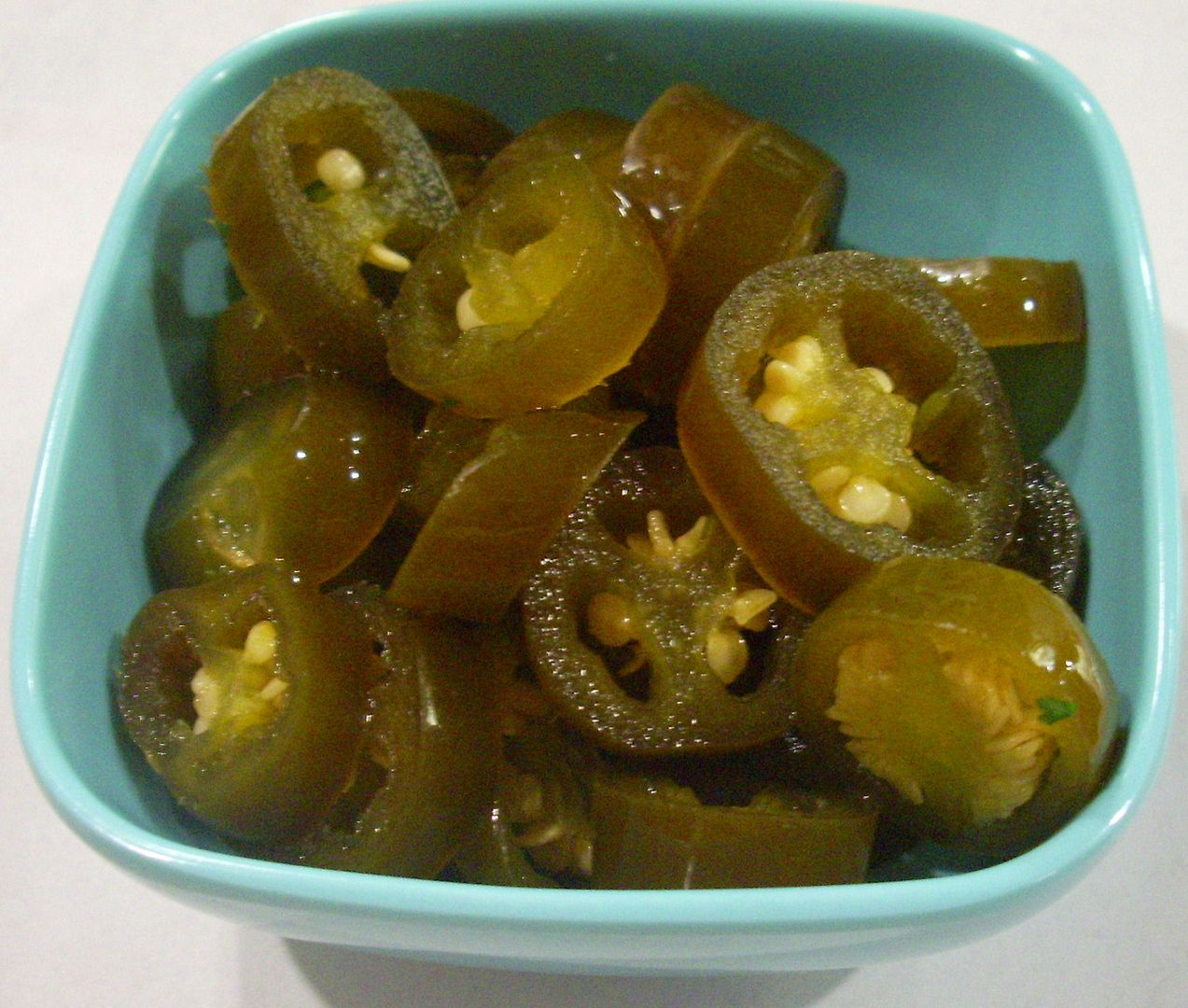 Candied Jalapenos
1 - 64-oz. jar pickled jalapenos
2-1/2 cups granulated sugar
1/8 teaspoon alum
Drain the liquid from the jar of peppers into a non-reactive pan. Add the sugar to the pan with the liquid and bring the mixture to a full boil. The sugar she be completely melted. Remove from heat and stir in alum. Allow the liquid to cool for 30 minutes.
Pour the cooled liquid back into the jar with the peppers. Do not allow to overflow. If there is any liquid remaining in the pan, discard it. Screw the lid back on the jar and refrigerate for a few days. Keep refrigerated.
That's it. I told you it was the lazy person's method.
Now, I'm already planning for Thanksgiving dinner. I think Tom's sister and brother-in-law will be coming, depending on their travel schedule, but whether we have company or not, we will have the traditional roast turkey, stuffing and gravy.
It's the rest of the meal I'd like to change up some.
Let's start with appetizers. First of all, I will make mini-sized
Asian Turkey Meatballs
. And a few days I saw a recipe for
Baked Brie Bites @ Plain Chicken
and I think I'd like to give those a whirl sometime before Thanksgiving, but they sound yummy without all of fuss of an En Croute.
The main course will, of course, be roast turkey, but I will put it in an apple cider brine the day before. The bird will be stuffed with a traditional bread stuffing, but Tom likes to add some fruit as well, like chopped apples and dates, along with the onions and celery. When we put the bird in the oven, I put the giblets and neck in a pot of water with some onion, carrot and celery and, when we are ready to serve, I make a gravy with the rich turkey broth.
I feel like switching up the side dishes this year. We usually make the traditional mashed potatoes, but I made
Parisian Potatoes
last month and I think I'll make them instead of mashed potatoes this year.
Not wanting to stray too far away from the traditional, green beans will still be on the menu, but not in the form of a casserole. A few years ago at a family reunion, my niece's husband made the tastiest green beans I've ever eaten. The dish consisted of simply fresh green beans, crisped bacon and butter, all of which were cooked together until the green beans were tender. Amazing.
A couple of years ago, I visited
Marie @ Proud Italian Cook
and copied her recipe for
Parmesan Roasted Onions
. They are rich, savory, creamy and delicious. And even if I'm the only one who eats them, they will be served Thanksgiving Day.
It's hard to decide what to do with a sweet potato. I'm not fond of the overly sweet candied sweet potato, nor do I care for the grated sweet potato casserole I've made the last 3 or 4 years. I'm thinking of roasting sweet potato rounds or wedges this year.
Of course, I will have my version of Cranberry Fool, a cranberry sauce made with fresh cranberries, a little sugar, dried cherries, raisins with a touch of vanilla.
For dessert, I am making a
Pumpkin Spice Latte Cheesecake
posted at
The Pastry Affair
I don't think anyone will leave hungry.
What are you serving for Thanksgiving dinner?

Pin It