Have I mentioned I have a freezer full of bacon I bought on sale? Nine pounds of it. Yeah, I think I have a time or two.

It's not that I want to use all of that bacon up quickly. It's merely that I'm now obsessed with everything bacon. Appetizers, like this recipe I found for Bacon Double Cheeseburger Dip that I've been wanting to try. The Bacon Vodka I made a while back.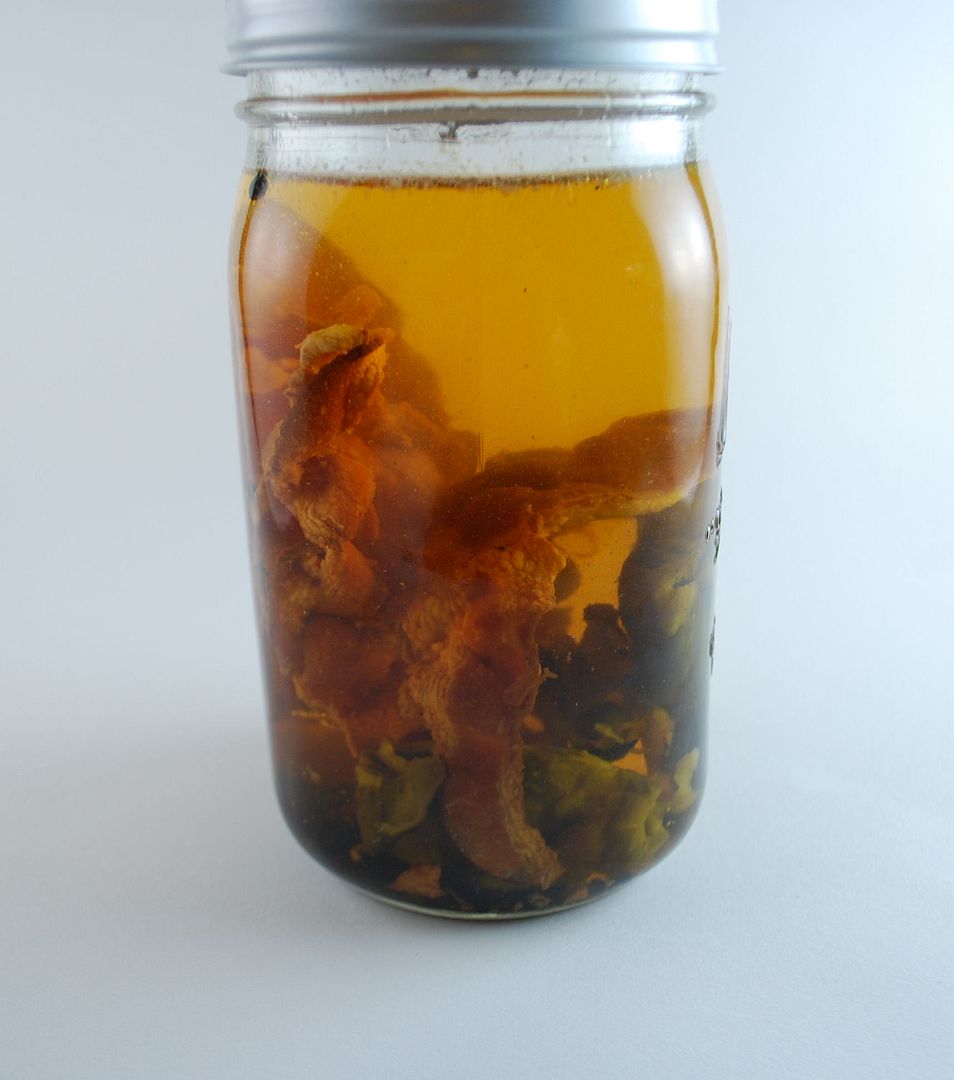 The
Roasted Potato Salad with Bacon and Blue Cheese
that I made last summer.
Or that addicting
Bacon Jam
But more than that, I've been completely fascinated with preparing pastries and other sweets containing bacon, which is how I came to make the
Chocolate Cupcakes with Maple Cream Cheese Frosting & Bacon Streusel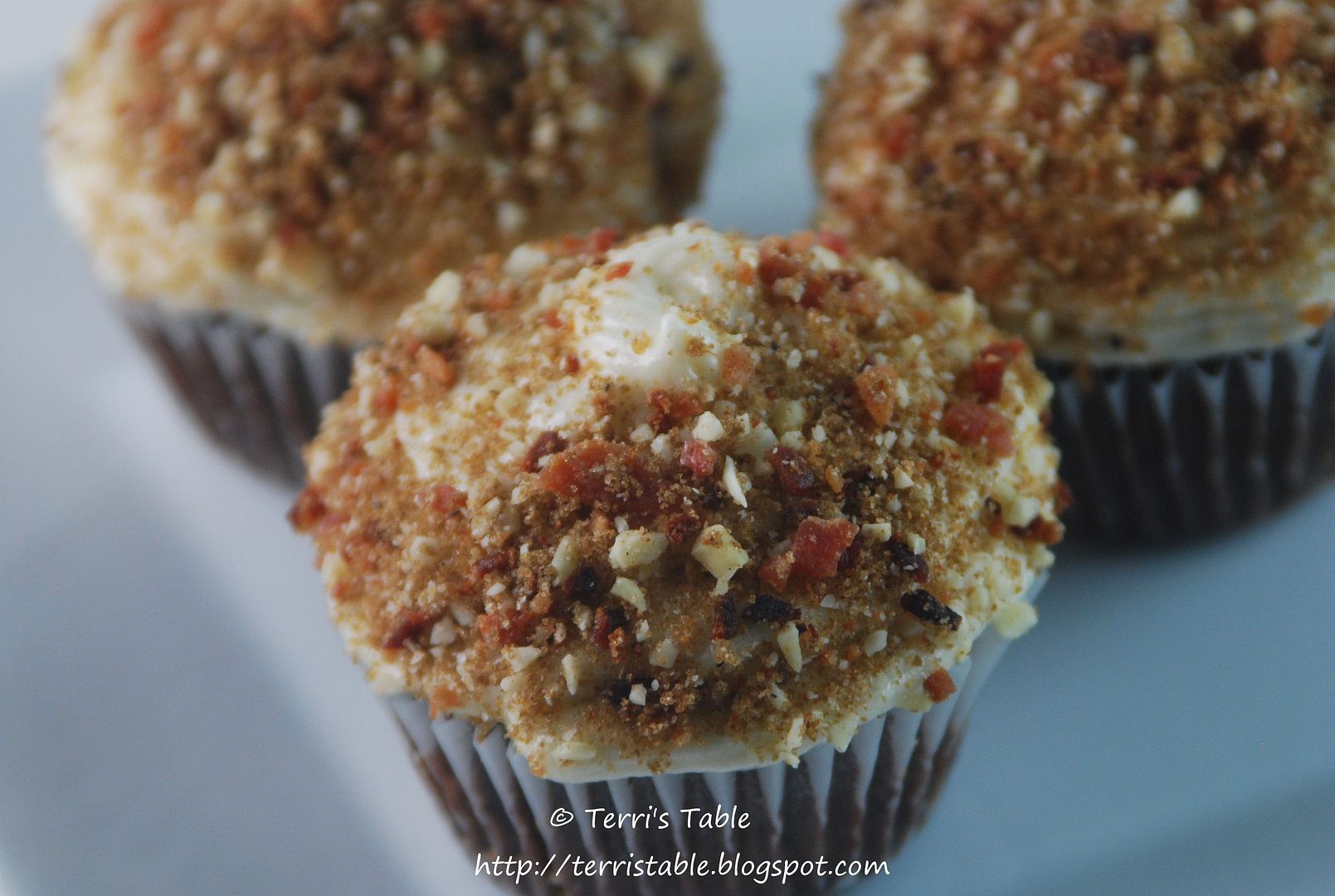 So last week I made Peanut Butter~Bacon~Chocolate Chip Cookies. I mean, really. You cannot go wrong with peanut butter, bacon and chocolate chips.
When I took the bulk of the batch into Wesley Church where I volunteer in the Clothes Closet, I heard a lot of Mmmmmmm's as folks passed by our door. One of our oldest volunteers, an 80-year old gentleman, peeked his head in the door of our room and said, with a big smile on his face, "Terri, these are good!"
Yes, they were good. They are so good that I had to get rid of them. I am ashamed to admit that I didn't share with my fellow volunteers because I'm a sweet, giving person. I had to get those cookies out of my house before Tom and I ate all of them!
You are going to start by cooking some bacon until it's crisp and reserving a little of the rendered bacon fat.
Then you'll mix the dry ingredients together and set aside while you beat up some softened butter, peanut butter, the reserved bacon grease, sugar, egg and vanilla extract. Then you'll add the flour, chopped up bacon and some mini-chocolate chips and that's it.
I thought if I baked the cookies just as they came out of the scoop, they'd flatten while baking. That didn't happen. When I started like this...
They came out like this....
Round little morsels. But I wanted more of a "cookie" form, so with the second tray I decided to smoosh them down a little before I baked them...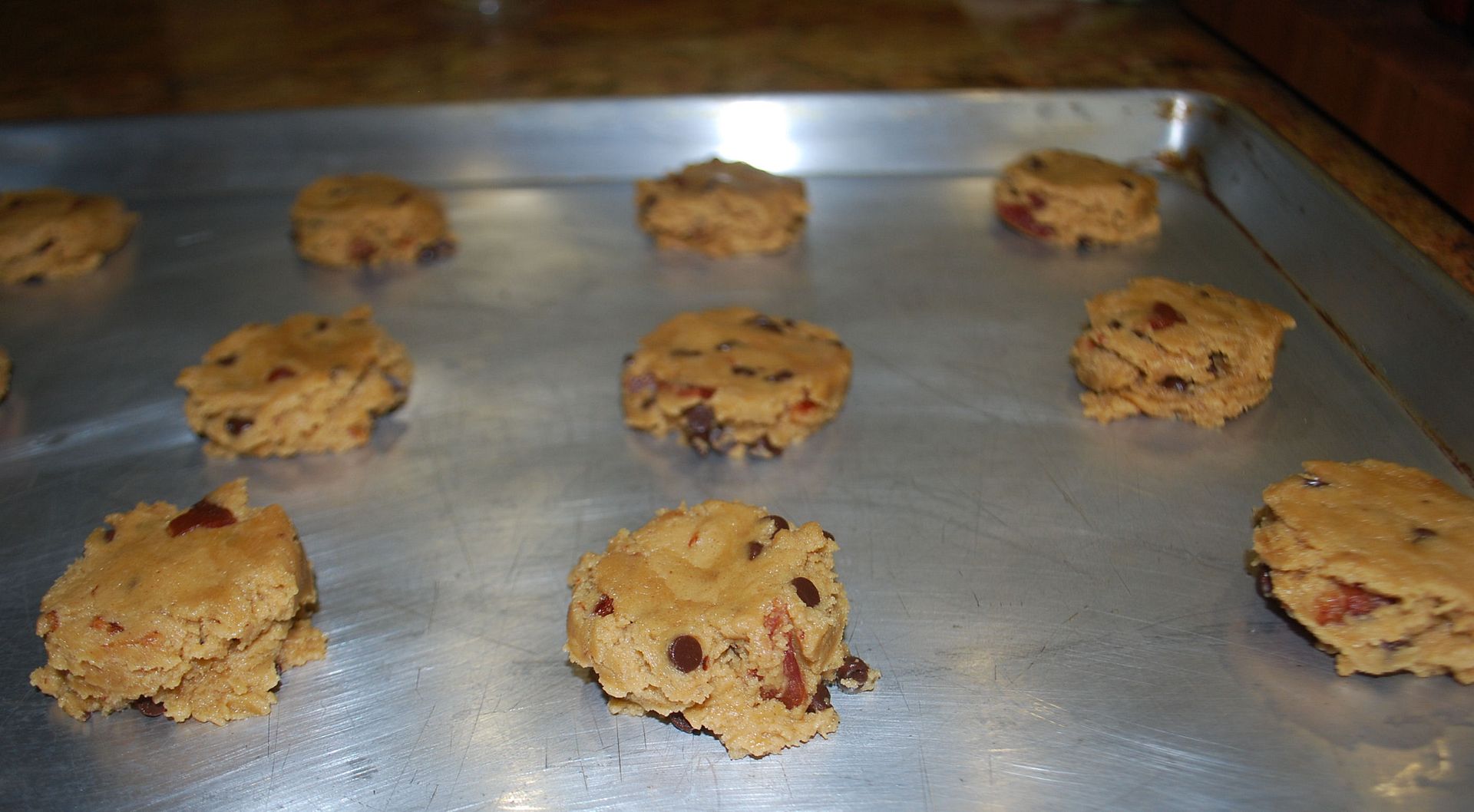 And you can see the difference...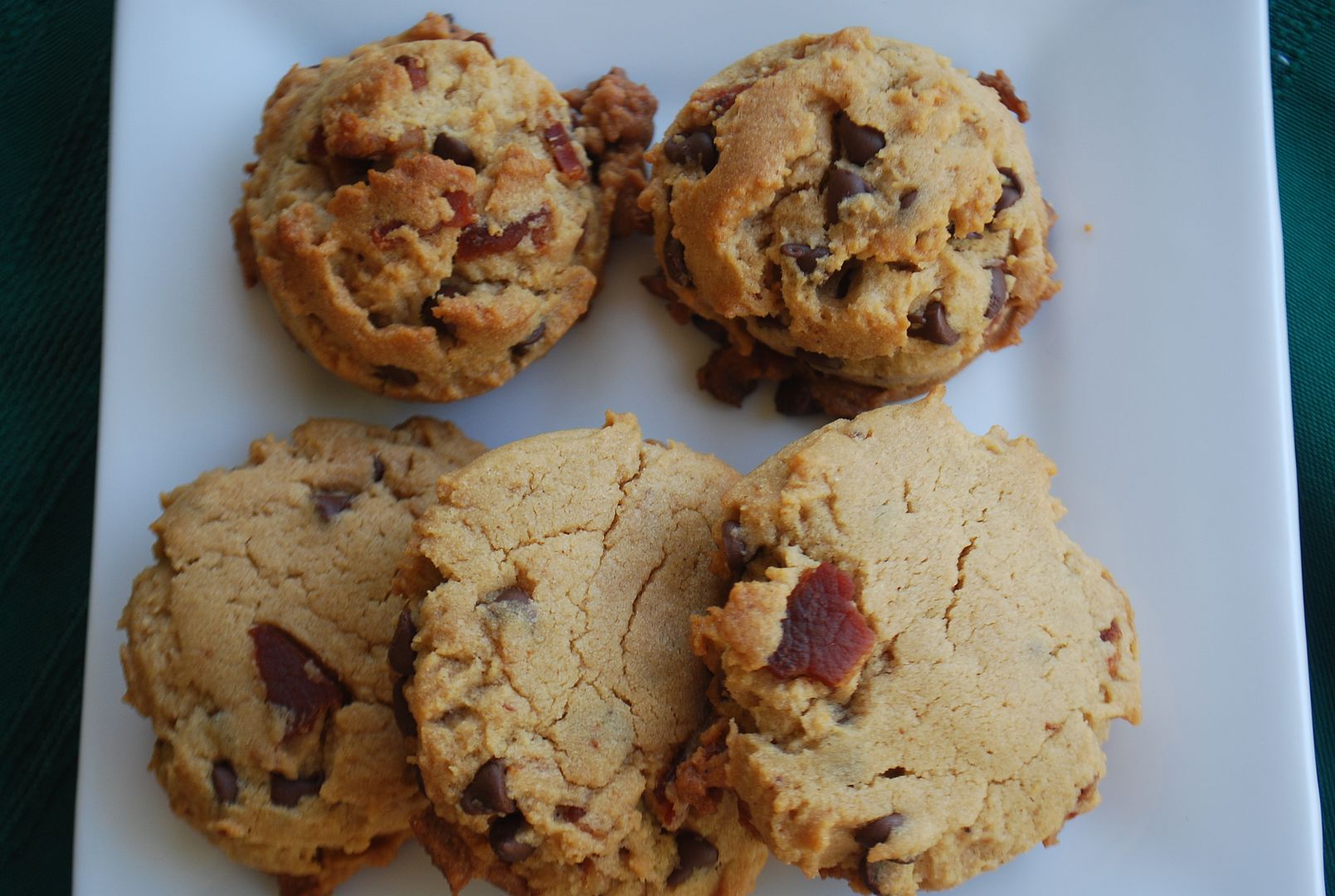 But you can make which ever way you think you would prefer.
Peanut Butter, Bacon, Chocolate Chip Cookies
Adapted from The Endless Meal


1-1/4 cups all-purpose flour
1/4 teaspoon baking soda
1/4 teaspoon baking powder
1/8 teaspoon ground cinnamon
1/4 teaspoon salt
6 strips bacon, preferably thick cut
2 tablespoons rendered bacon fat, reserved from cooking bacon
4 tablespoons butter or margarine, room temperature
1/2 cup peanut butter, creamy or crunchy
1/2 cup sugar
1/2 cup packed dark or light brown sugar
1 egg
1 tablespoon vanilla extract
1/3 cup semi-sweet mini chocolate chips

Preheat oven to 350 degrees.

Cook the bacon in a frying pan over medium to medium high heat until all of the bacon is crisp, turning frequently. Remove from the pan to a paper towel. Measure 2 tablespoons of the bacon fat into a small pinch bowl and set aside to cool.

In a small bowl, combine the flour, baking soda, baking powder, cinnamon and salt. Using a whisk, mix the ingredients together until completely combined. Set aside.

Roughly chop the bacon pieces and set aside.

In a medium sized bowl, beat the butter or margarine with the reserved bacon fat until the mixture is smooth, about a minute. Add the peanut butter and beat until smooth, about another minute. Beat in both sugars until light and creamy, about 4 minutes. Add the egg and vanilla extract and beat until light and fluffy, about 2 more minutes.

Add half of the flour mixture and beat until combined. Scrape down the sides of the bowl and add the remaining flour mixture and mix until just combined.

Using a spoon or rubber spatula, mix in the bacon and chocolate chips.

Form the dough into 1-inch balls (I use a 1-inch ice cream scoop for this) and place on an ungreased baking sheet about 2-inches apart. If you prefer a flatter cookie, press down gently on the dough with your fingers to slightly flatten the cookie ball.

Bake in the preheated oven for 8 minutes for chewy cookies, or 10 - 12 minutes for crispier cookies.

Let the cookies cool about 2 minutes before removing from baking sheets. Transfer to a rack to cool completely.

Store in an airtight container for up to 3 days.
So what's up next? I'm thinking Maple Bacon Baklava. Stay tuned....