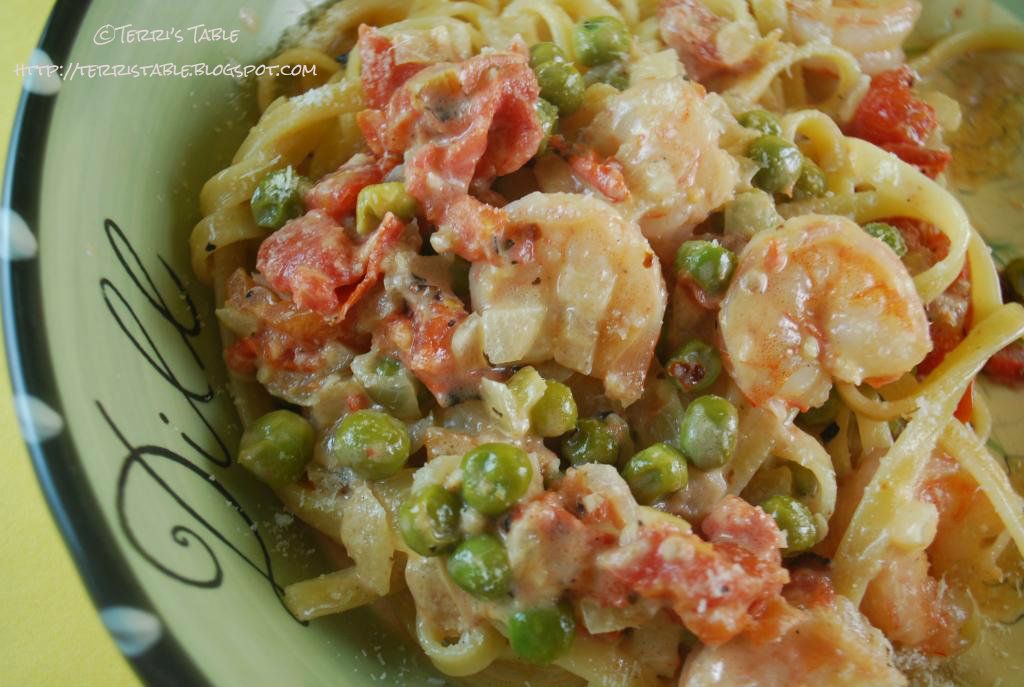 I think I was Italian in another life. I just wish I could remember living in Italy. It was probably pretty awesome, but the memories escape me.
But seriously, even though I'm part Norwegian, part Russian Jew, part German and a smattering of American Indian, I'm partial to Italian food, particularly pasta.
Tom is generally the pasta chef in our house. Sometime in the early 1980's he acquired
this cookbook
, which he's nearly worn out...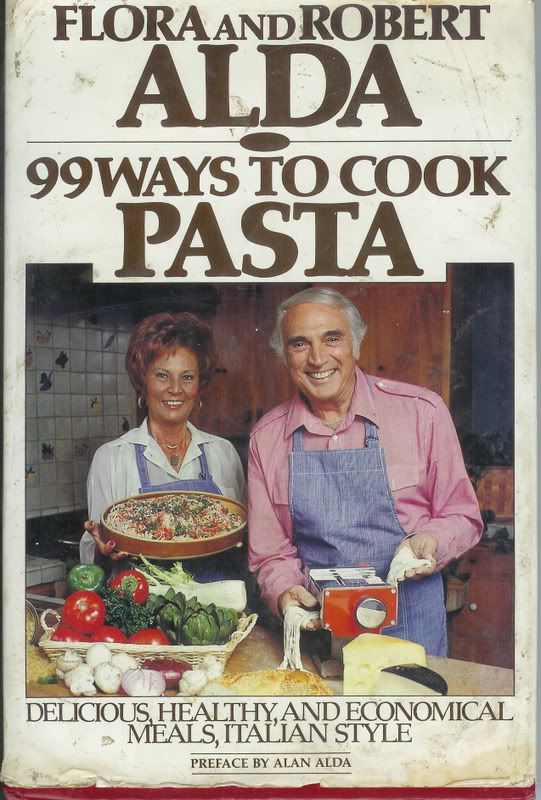 It's chock-full of wonderful, authentic Italian pasta recipes from classic red sauce to carbonara to puttanesca. There are really 99 recipes in the book, but even though Tom has used the cookbook for over 30 years, we have yet to try every single one.
This particular recipe isn't in the book, probably because combining Parmesan cheese and shrimp (or any kind of fish, for that matter) is supposed to be taboo in authentic Italian cooking. However, I've been known to break tradition now and then.
If you are craving a hearty dish that's quick and easy, here it is. The whole dish takes about 30 minutes from stove top to table. Warm a loaf of French bread in the oven and you've got a meal for a family of four to six people, depending on appetites.
I use smallish frozen shrimp, 31-40 count. They're bite sized, yet big in flavor.
Feel free to use any other kind of pasta ~ spaghetti, linguini, angel hair ~ whatever you have on hand.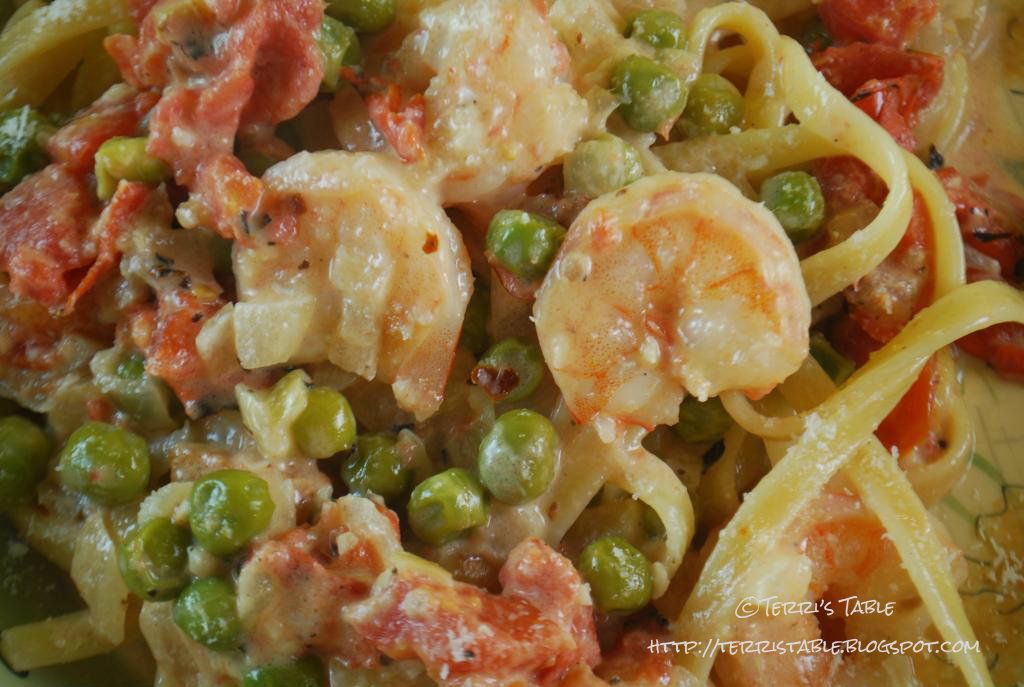 Fettucini and Shrimp Rosé
4 tablespoons butter (divided)
1 tablespoon olive oil
20 to 25 medium-sized raw shrimp (31-40 count), peeled and deveined
1 - 1 pound package fettuccine, linguine or spaghetti
1 small onion, finely diced
2 cloves garlic, minced
1/4 teaspoon crushed red chili flakes
1 - 14.5 ounce can fire-roasted diced tomatoes, drained
1/2 teaspoon kosher salt
1/2 teaspoon ground pepper
1/2 teaspoon brown sugar
1 cup dry white wine
1 cup heavy cream
1/2 cup fresh or frozen sweet peas
1/2 cup freshly grated Parmesan cheese, plus more for serving
Over medium high heat, melt two tablespoons of butter with the olive oil in a large skillet (it should be large enough to hold all the pasta and sauce at the end). Add the onions and sauté until slightly browned (about 6 or 7 minutes). Add the garlic and cook another minute.
Add the tomatoes, chili flakes, salt, pepper and brown sugar and bring the mixture to a boil.
Add the white wine and peas to the pan and bring to a full boil. Add the cream and Parmesan cheese and again bring the mixture to a full boil, stirring constantly. Reduce the heat so that the mixture is barely simmering and prepare the pasta according to package directions.
While pasta is cooking, quickly sauté the shrimp in the remaining 2 tablespoons butter and set aside.
To serve, drain the pasta and add it and the cooked shrimp to the simmering sauce.
Enjoy!